It was one of those nights again – we had a relatively light dinner, and were all cuddled up on the couch watching Downton when the sweets craving hit us. Of course there wasn't any junk in the house,  and while fruit is my usual go-to sugar source, we both agreed we needed something a little naughtier than that. As such, I will not pretend these are health food…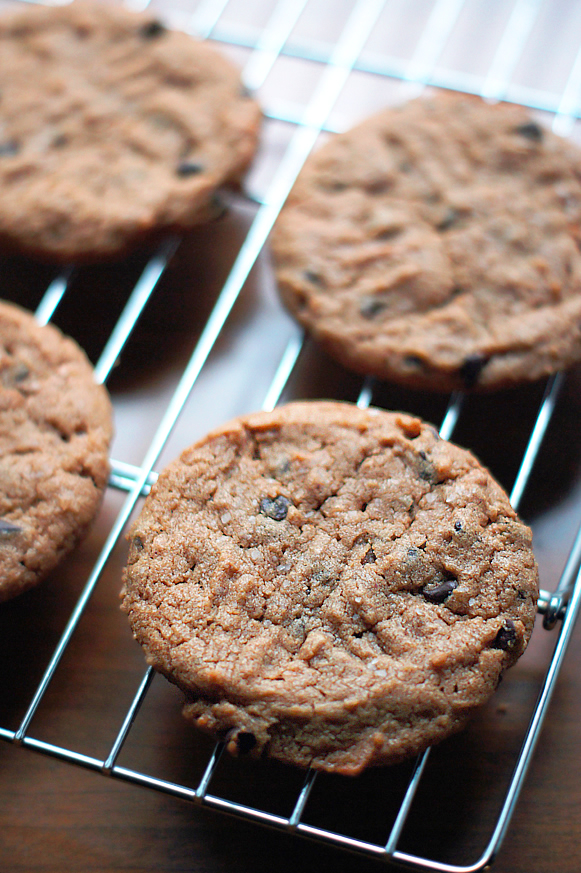 Ok, maybe I will try – they're grain free, high in protein, and contain nature's superfood: the incredible edible egg!
Unfortunately, they also have a cup  of sugar in them. Crap. Good thing they're super delicious!
I know it's silly, but my favorite part about these cookies is the sprinkle of salt on top. It's such a simple thing, but adds an amazing depth to a cookie that otherwise doesn't steer too far away from your typical super sweet peanut butter cookie.
The texture of these is also phenomenal – they're chewy, a little crunchy, and a bit carmely all at the same time. Did I mention we're combining chocolate and peanut butter again? Yeah. You really cannot go wrong.
Note too that these make a smallish batch, just a dozen, which is a pretty good amount when you want something sweet in the house, but you don't want to tempt yourself for days on end with it.
Flourless Peanut Butter Chocolate Chip Cookies

Print recipe
Ingredients
1 cup natural peanut butter
1/2 cups dark brown sugar (packed)
1/2 cups granulated sugar
1 egg (large)
1 1/2 teaspoons vanilla extract
sea salt (or kosher salt)
Optional
1/4 cups mini chocolate chips
1/4 cups mini peanut butter cups (check Trader Joe's for these!)