OK, Confession time: I had never tasted red velvet cake until everyone went red velvet crazy in 2009.
In fact, several years prior, I made a red velvet cake at the request of a colleague without even knowing what it was supposed to taste like, and just assumed it was basically chocolate cake with copious amounts of red food coloring. This may be true of a cake prepared in a grocery store bakery, but gosh was I wrong about the real deal.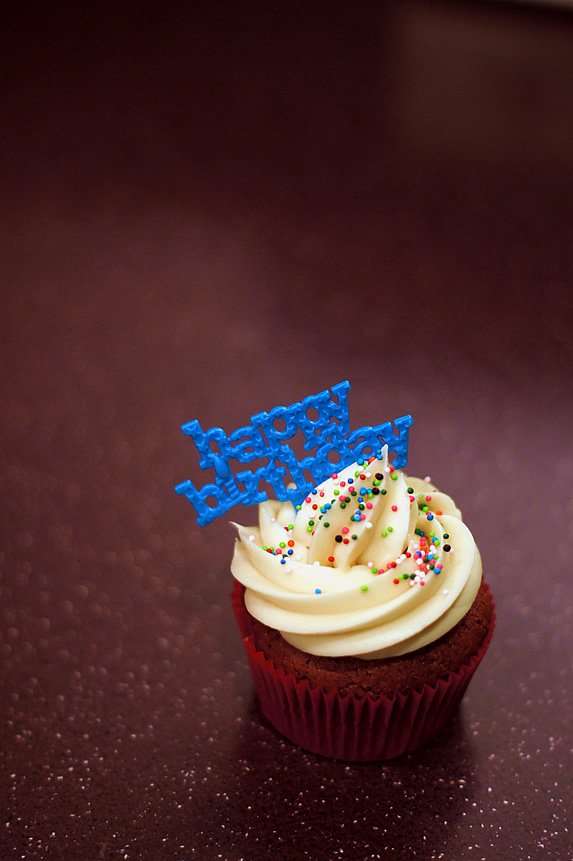 My first pre-red-velvet-mania cake was a total hit (who doesn't love a good chocolate cake?), but years later, when the request came in for red velvet birthday cupcakes for my husband's boss,  I knew I had to get my act together and figure out how to do red velvet right.
When I searched the web, I found lots of folks who were just as mistaken as I was, with hundreds of highly rated recipes consisting of German chocolate cake mix with an entire bottle of red food coloring. I knew this couldn't possibly be the way to make such a classic cake, but it took quite a bit of digging to find something more authentic.
After reading the WikiPedia article on red velvet cake, I learned two important things: 1) the velvet in red velvet cake was all about creating a super smooth crumb, mimicking velvet! 2) the gorgeous color of old fashioned red velvet cakes came from one of two secret ingredients – either non-dutch process cocoa powder or beets! Turns out the old fashioned cocoa powder has a much redder natural color than the cocoa powder most of us use today, while the beets served a more familiar purpose as a natural food dye. I'm not a beet fan myself and didn't want to go too Deceptively Delicious with these, so I opted for the natural cocoa powder, and to get it closer to the intense red color most people expect today, I added a bit of natural beet-based food coloring.
For the icing, I set out to create a pipeable cream cheese icing that would crust and retain its shape for decorating. I wasn't able to get the desired effect without using shortening, so to balance that, I found an organic non-hydrogenated shortening made from palm oil. If you don't need the icing to hold its shape, you could substitute butter for the shortening. On a hot summer day, you may have better results if you add additional powdered sugar or adjust the ratio of butter to shortening to account for the humidity.
What's your take on red velvet? Is it one of your family traditions, or, like me, was it a more recent discovery? Do you think it's just reddish chocolate cake, or is it something uniquely its own?
Red Velvet Cupcakes with Cream Cheese Frosting

Print recipe
Ingredients
Red Velvet Cupcakes
3/4 cups natural cocoa powder (not dutch process!)
2 teaspoons vanilla extract
1/2 cups unsalted butter (softened)
1 cup granulated sugar
2 eggs (large)
1 cup buttermilk
1 teaspoon salt
2 3/4 cups ultragrain flour
1 teaspoon baking soda
1 teaspoon red wine vinegar (or apple cider vinegar)
1/2 - 1 tablespoons natural red food coloring (to desired color, look for India Tree brand, optional)
Pipeable Cream Cheese Icing
1/2 cups organic shortening (look for Spectrum brand)
1/2 cups unsalted butter (softened)
8oz cream cheese (1 block, at room temperature)
2 tablespoons vanilla extract (to taste)
1/2 teaspoons salt
powdered sugar (approximately 2lbs)
Directions
Red Velvet Cupcakes
In a large bowl, beat butter and sugar together until fluffy. Add eggs and beat until combined. Add cocoa and vanilla, beat until well combined.

In a separate bowl, mix together buttermilk and salt, then gradually add to the butter and sugar mixture, alternating with the flour. Add food coloring if desired.

Beat on high speed until smooth, about 5 minutes.

Fill cupcake liners 3/4 full. Bake at 350 for 18 minutes or until a toothpick comes out clean.
Pipeable Cream Cheese Icing
Cream shortening, butter, cream cheese, and vanilla at high speed until smooth.

Add salt. Gradually add in powdered sugar until the icing is well mixed and develops stiff peaks. Frosting consistency varies based on humidity and temperature, so you may need to adjust the powdered sugar accordingly.



Recipe and photographs from Mayhem in the Kitchen!
https://mayheminthekitchen.com/red-velvet-cupcakes-with-cream-cheese-frosting/