I've mentioned before that work birthday treats are getting crazier and crazier. If it is pinned on Pinterest AND over the top, chances are it's making its way to my office sooner rather than later. For my birthday last week, my coworkers surprised me with a lovely spread of veggies and hummus (they SO know me) as well as some ice cream cupcakes.
Another coworker has a birthday this week and requested brownies, but after all of that birthday cake talk, I knew I had to integrate cake batter somehow!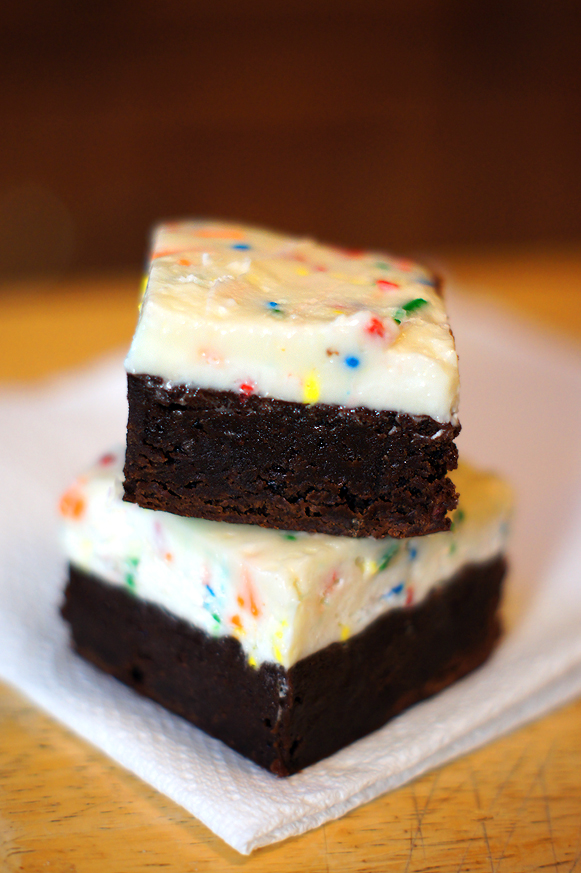 I breezed through my birthday cake roundup looking for inspiration, but at the last minute decided to head over to my Bars board on Pinterest, and started with Homemade Brownies with Funfetti Frosting from Confessions of a Cookbook Queen as my base.
This is a great recipe for so many reasons – foremost in my mind is that it's one bowl for the brownies, one bowl for the icing, done. I have two bowls for my mixer (one metal, one glass) so I was able to make these without doing any dishes inbetween, which, now that we're in the new house and without a dishwasher, was like a dream come true. I am SO over the constant stream of dishes. We didn't use a dishwasher growing up, but the last house spoiled me! 🙁
You know what else is great? The frosting doesn't have cake mix in it, but tastes just like cake batter anyway!
Want to know the secret?  Butter Vanilla Emulsion, or as I like to call it, cake batter in a bottle.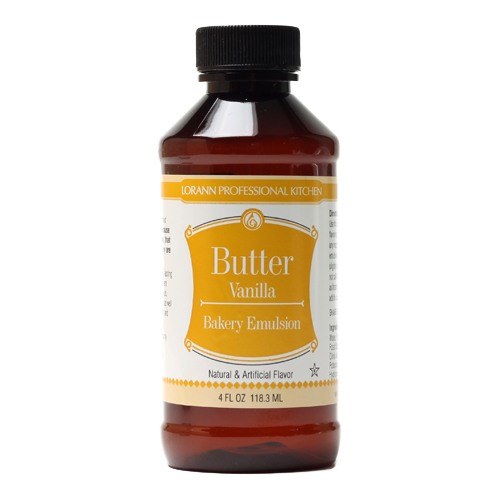 What's an emulsion you ask? It's like an extract, but thick and gooey, with a texture and appearance almost like hair conditioner or dye developer. Professional bakers love it because the flavor doesn't bake out as much as an alcohol based extract, so you can achieve a strong flavor without pouring in half the bottle. I tend to pour a little way heavy on my extracts nomatter what it is that I'm baking, and if I'm making something that I want to have a very distinctive flavor (especially almond) I'll reach for emulsions over regular extracts any day. In this recipe, the Butter Vanilla emulsion turns a basic buttercream into fancypants super delicious cake batter buttercream that is like something out of a dream ….a dream involving cake. I had a teeny bit of the icing left over after frosting the brownies, and honestly intended to freeze it… but I ate it instead. Straight from the mixing bowl. No regrets.
The brownies are wonderful, too – fudgy, chewy, and chocolatey. Everything you want in a fudge brownie, and then taken straight over the top with the power of cake batter.
Have you ever had Birthday Cake Remix from ColdStone Creamery? These are like that. A perfect marriage of cake batter, sprinkles, and chocolate!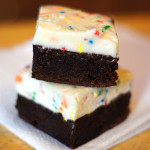 ColdStone Birthday Cake Remix Brownies
Ingredients
Fudge Brownies:
1

cup

salted butter

melted

1/2

cup

dutch process cocoa powder

1/2

cup

dark cocoa powder

2

cups

granulated sugar

4

large eggs

2

Tbsp

vanilla extract

1 1/2

cups

ultragrain flour

12

oz

hot fudge sauce
Cake Batter Icing:
1

cup

salted butter

softened

4

cups

powdered sugar

2

Tbsp

butter vanilla emulsion

1/4

cup

heavy whipping cream

1/2

cup

ice cream sprinkles
Instructions
Fudge Brownies:
In a mixing bowl, mix together melted butter and cocoa powders. Add sugar and vanilla, and mix until just combined. Mix in eggs, one at a time. Add flour, one cup at a time, and mix until no flour streaks remain - batter will be lumpy. Fold in fudge sauce and mix until distributed.

Spread batter in a well greased 9x13 pan. Bake at 350 for 20 minutes. Brownies will come out very dense and thick.

Frost cooled brownies, and refrigerate before serving.
Cake Batter Icing:
In a mixing bowl, using a paddle attachment, beat butter and butter vanilla emulsion until smooth. Add powdered sugar one cup at a time and beat until well combined. Add heavy whipping cream and beat until fluffy. Gently fold in sprinkles.
PS: these + vanilla ice cream = perfection.