My quest to use those carrots continues. I've made plenty of savory dishes so far, but I really wanted to make something sweet that wasn't your typical carrot cake, and these cookies adapted from Love and Lemons fit the bill!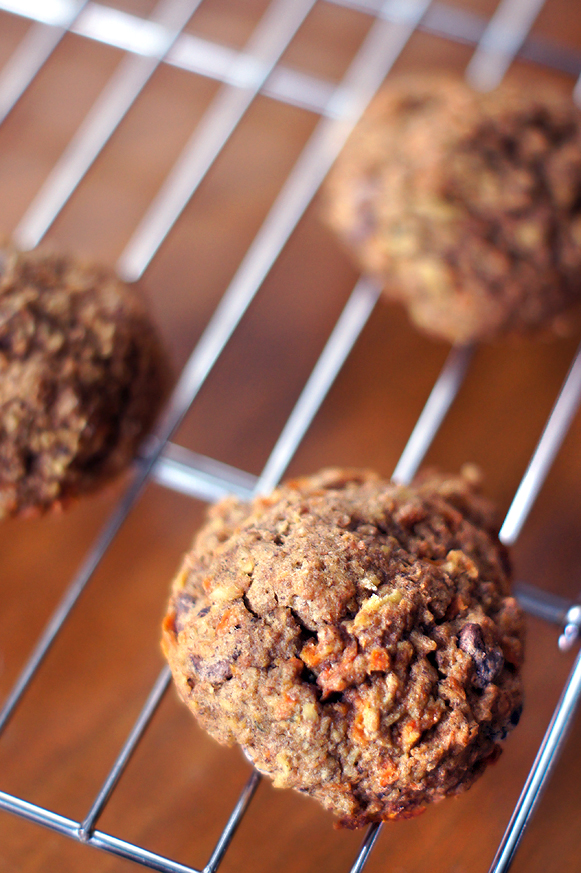 I've been eating these for breakfast this week, and they're great – a little bit carrot cake, a little bit muffin, a little bit cookie…and slightly less guilt thanks to their wholesome ingredients.
I'm not a raisin person, so I put chocolate chips in them, but if you're the type who loves raisins in your carrot cake, toss in a handful!
Carrot Muffin Top Cookies

Print recipe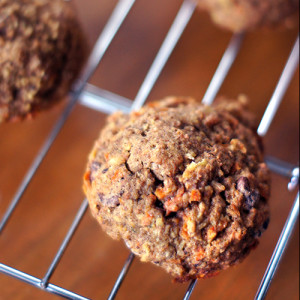 Ingredients
1/2 cups carrots (grated)
1/4 cups coconut oil (melted)
3 tablespoons dark brown sugar
1 teaspoon vanilla extract
1/3 cups whole wheat flour
1/4 teaspoons baking soda
1/4 teaspoons salt
1/4 teaspoons nutmeg (ground)
1/2 teaspoons saigon cinnamon (ground)
1/4 cups rolled oats
1/4 cups chocolate chips
1/4 cups walnuts (chopped)
1/4 cups raisins (optional)
Chia Egg
1/2 tablespoons chia seeds (ground)
1 1/2 tablespoons water
Directions
Chia Seed Egg
Whisk together ground chia seeds and water. Chill until it reaches the consistency of a raw egg white, about 15 minutes.
Cookies
Using the dough blade of a food processor, gently mix carrots, coconut oil, brown sugar, vanilla, and chia seed egg. Add flour, soda, salt, cinnamon, and nutmeg and mix until just combined. Chill for 20 minutes. Fold in oats, chocolate chips, and walnuts.

Using a medium cookie scoop, drop onto a baking sheet lined with parchment or a silpat. Bake at 375 for 10-12 minutes or until golden.
Adapted from Love and Lemons

Recipe and photos from Mayhem in the Kitchen!
https://mayheminthekitchen.com/carrot-muffin-top-cookies/