A few weeks ago I was discussing a friend's 18 week ultrasound. She didn't want a big gender reveal party, but since this was the first time she and her husband had decided to find out their child's gender before birth, she still wanted to do something more special than just having the technician tell her.
We went through all the standard options –  balloons, confetti, smoke bombs, paint balls – and before I knew what I was saying, I blurted "I'll make you a cake!". A few weeks later I was presented with a sealed envelope labeled 'Baby' and soon after I was temporarily part of one of the world's most exclusive clubs, just me and that ultrasound tech! 🙂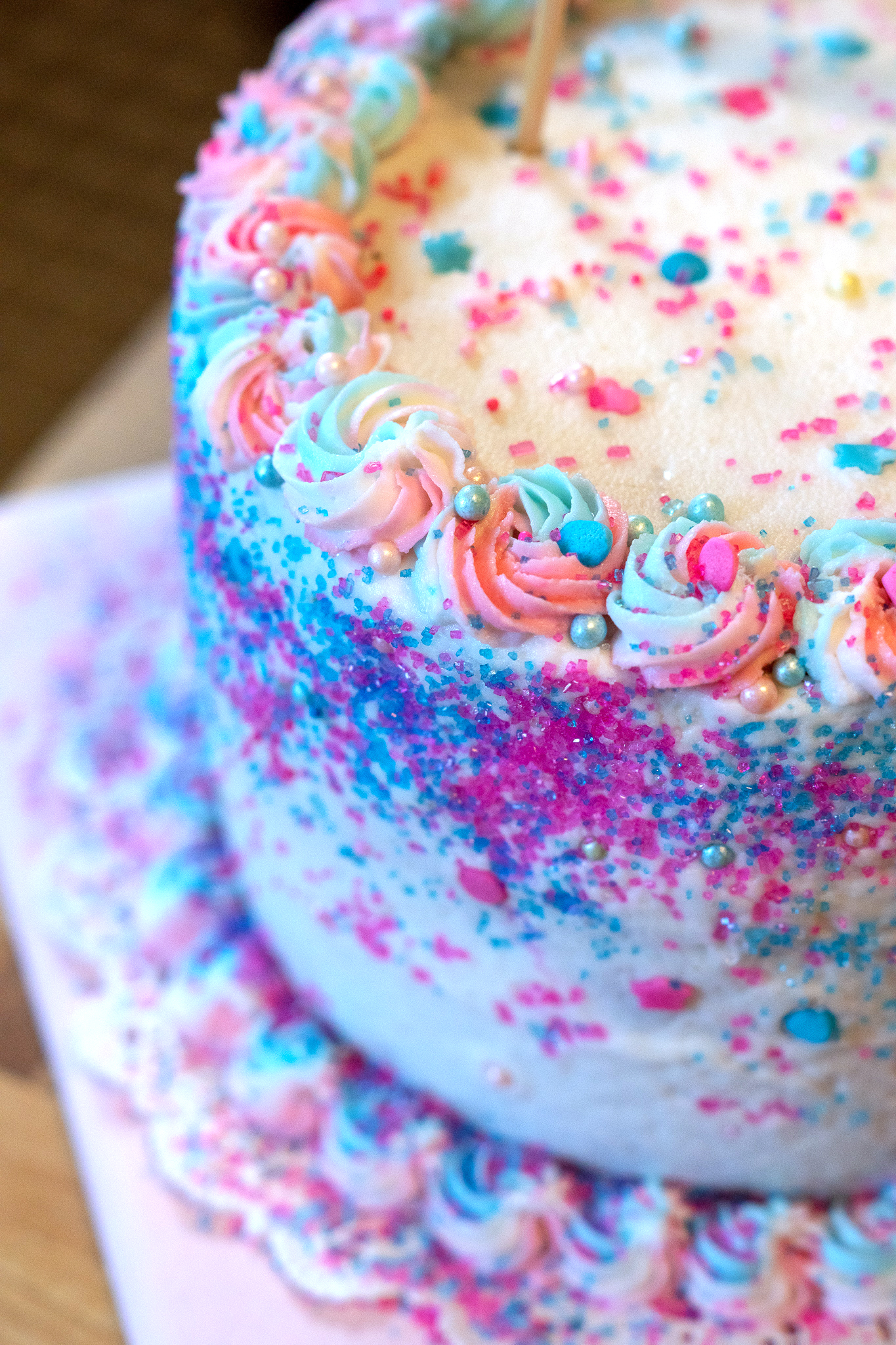 I actually ended up leaving the envelope sealed for as long as possible because I didn't want any mishaps. When the time came to buy supplies, I still hadn't opened the envelope and simply continued on with a classic pink and blue theme. Only when it was time to bake the cake did I open it. My own little reveal party! 🙂
The cake itself is a simple white cake (it was my intention to tint it pink if it was a girl) and the frosting is my favorite almond buttercream. To create the border, I tinted icing pink and blue, then striped the piping bag to create a swirl effect, and the sprinkles were generously applied using the method I used for my Sprinkle Covered Birthday Cake.
For the gender reveal portion, I tinted the icing between layers, and cut out the center of the middle tier and filled it with sprinkles for a sprinkle waterfall upon cutting!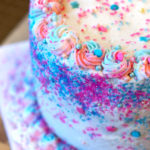 Gender reveal cake - white cake with almond frosting
Ingredients
White Cake
2 1/4

cups

Cake Flour

1

cup

half and half

6

egg whites, large

2

tsp

almond extract

1

tsp

clear vanilla extract

1 3/4

cups

granulated sugar

4

tsp

baking powder

1

tsp

salt

1 1/2

sticks

salted butter, cubed
Almond Icing
2

lbs

confectioners sugar

11

tbsp

milk (of your choice)

1

cup

organic shortening

2

tsp

almond extract
Instructions
Cake
Preheat oven to 350. Line and grease two 8 inch cake pans.


Stir together half and half, eggs, and extracts.


Mix flour, sugar, baking powder, and salt in the bowl of electric mixer at low speed until just incorporated. Add butter and beat for 1-2 minutes.


Add all but 1/2 cup of liquid mixture to dry mixture and beat at medium speed for 1 minute. Add remaining 1/2 cup of liquid mixture and beat for another minute.


Pour batter evenly into prepared cake pans. Bake at 350 for 25-30 minutes or until cake tests done.

Icing
Mix together ingredients by hand, then whip at high speed until light and fluffy.

Recipe Notes
Cake recipe adapted from I Am Baker