I live in a very closely knit community, and in the summertime, that translates to neighborhood potlucks at least once a month. People still talk about the hamburger cupcakes I brought to my first potluck in 2008,  so last night I spent about an hour going back and forth about what to bring this time around. Do you ever battle with yourself, trying to find that balance between staying true to your dietary choices and sharing something you know people will love? That was me last night, trying to decide between my guiltless option – sugarless chia seed pudding, or what I knew would soon become another neighborhood legend – my variation on the bars I found on Pinterest.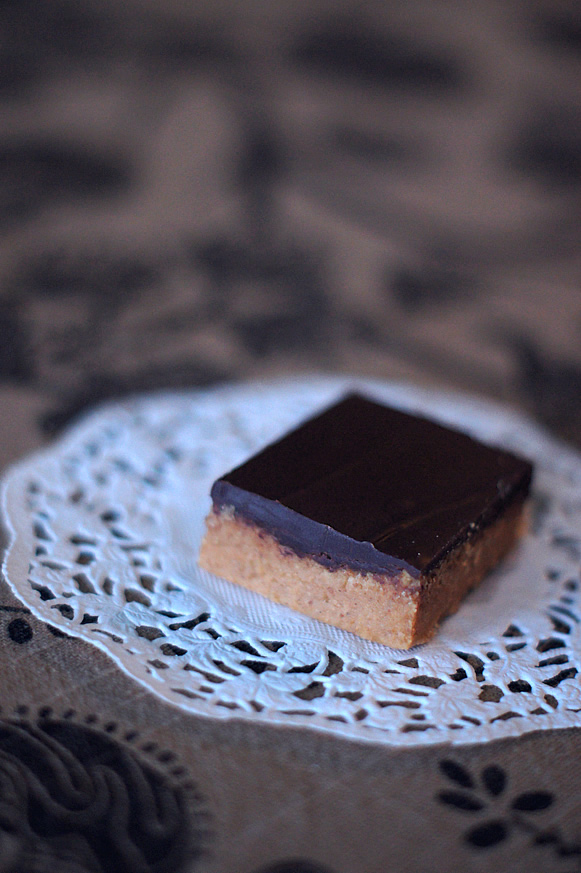 I assume it is clear what won.
Holy crapoly. You're going to have to forgive me for these. I'm not sure if the cup of peanut butter tipped you off, but um, these bars are really dangerous. Like,  don't make a batch for your husband because he's not going to get any, dangerous. My recommendation would be to always bring these somewhere that you can share them with a crowd, because you might get one piece before they're gone. Well, not including all of the dough you eat during the course of assembly..   oh, and the first one out of the pan always crumbles a little, no way you could serve it looking like that! 😉
Seriously though, these are perfect for a weeknight potluck – mix up the peanut butter, press into a pan, melt some chocolate, pour it over the peanut butter, chill, done. Doesn't get much easier than that. These are quickest when you use boxed graham cracker crumbs, but I'd highly recommend grinding up the graham crackers out of Alana Chernila's The Homemade Pantry: 101 Foods You Can Stop Buying & Start Making. To cut down on the sugar content, you could also use Chocolate Covered Katie's Sugar-Free Powdered Sugar, but I don't think I can condone cutting out the chocolate chips!
Peanut Butter Cup Bars

Print recipe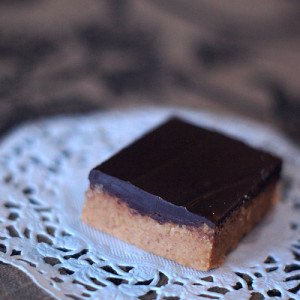 Ingredients
Peanut Butter Layer
1 cup salted butter (melted)
2 1/2 cups graham cracker crumbs
2 cups powdered sugar
1 cup natural peanut butter
Chocolate Layer
1 1/2 cups chocolate chips
4 tablespoons natural peanut butter