Every year at my work we do a company breakfast and pajama party. We've had it catered in the past (though I've been known to bring something anyway – any excuse to bake!) so this year was the first time we've officially gone potluck style.
I love baking for breakfast, and if you've visited before, you know exactly what I brought as my contribution….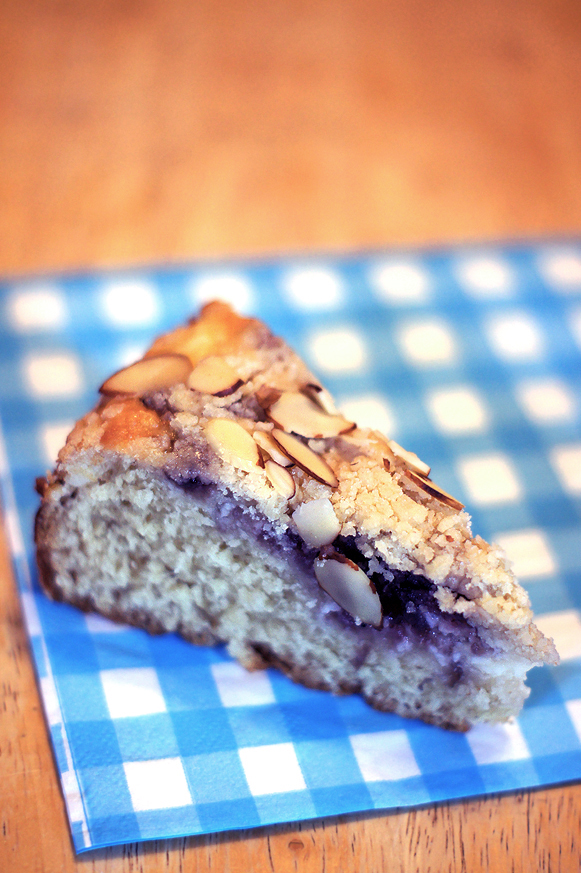 Coffee cake, of course!
This was another one of those recipes I perfected during The Quest for Brunch Excellence (my personal quest for a large library of tried and true recipes to serve my guests with their coffee!) and it has quickly become my favorite. The cake is dense and moist, the streusel and almonds give it a nice crunch, and the cream cheese and jam make for a lovely cheesecakey twist. That's sounding pretty good, right?
This is definitely my go-to coffee cake recipe, and I think the biggest reason I take it everywhere is that I absolutely love the ability to mix it up based on season or preference simply by altering the extracts and jam.  I've used everything from raspberry jam, to blackberry preserves, to strawberry jelly, to orange marmalade, and it always gets rave reviews. I would gently recommend a seedless spread, but that's probably just my own personal preference. Otherwise, your favorite jam should work splendidly, and if you'd like you can also play with complementing extracts and nuts. How about vanilla extract with peach jam topped with pecans?  Almond extract, cherry preserves, and almonds on top? Vanilla extract, apple jelly, pecans, and a sprinkle of cinnamon? 😀
I will warn you of just one little quirk with this recipe – how long it takes to for the center of the cake to set will vary widely based on which jam you use (and how much, if you're like me and go a little heavy on it.) This was actually the first thing I baked at the new house (that's the one without the beautiful Jenn-Air oven that's getting left behind at the old house 🙁 ) and even though I've made it a million times, it was a bit of a challenge for me. My notes say that this should take about 45-50 minutes to bake, but in the old light-less window-less uninsulated oven from the 80s at the new house, it took more like 70 minutes (better than finding it burnt after 30 minutes, I guess) so I'd watch this one closely. You can toothpick test all day on this thing and it won't do you any good because the cheesecakey middle will always leave your toothpick gooey. Just take it out either when the middle isn't super jiggly anymore or when you think the sides of the cake are about to go from golden-brown to burned-brown, whichever comes first. 🙂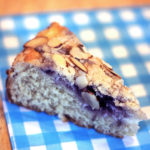 Blueberry Cream Cheese Coffee Cake
Ingredients
Coffee Cake
2 1/4

cups

ultragrain flour

3/4

cup

granulated sugar

3/4

cup

salted butter

1/2

teaspoon

baking powder

1/2

teaspoon

baking soda

1/4

teaspoon

salt

3/4

cup

sour cream

2

teaspoons

almond extract

1

egg
Cream Cheese Swirl
8

ounces

cream cheese

1/4

cup

granulated sugar

1

egg

3/4

cup

blueberry preserves

or jam of your choice
Instructions
In a large bowl, combine flour and 3/4 cup sugar. Using pastry blender or fork, cut in butter until crumbly. Reserve and set aside 1 cup of crumbs for the topping. To the remaining crumb mixture, add baking powder, baking soda, salt, sour cream, almond extract, and 1 egg and mix until well blended. Spread batter over bottom and up the sides of greased and floured 9-inch springform pan.

In a small bowl, combine cream cheese, 1/4 cup sugar, and 1 egg. Mix well. Pour into the pan over the batter and spread evenly. Spoon jam over cream cheese mixture and swirl together.

Sprinkle reserved crumbs and sliced almonds over the cream cheese-jam mixture.

Bake at 350 for 45 to 55 minutes or until center is set.
Recipe Notes
Adapted from food.com