Tomorrow we're celebrating another colleague's birthday at work, and he's not much into sweets. Since it's a Friday, I'd toyed with the idea of just bringing in a bottle of gin, or perhaps a nice liqueur, but what's a birthday without treats? Instead of going crazy with cake, I opted for some simple crowd-pleasing cookies, and let someone else take on gin and tonic duty.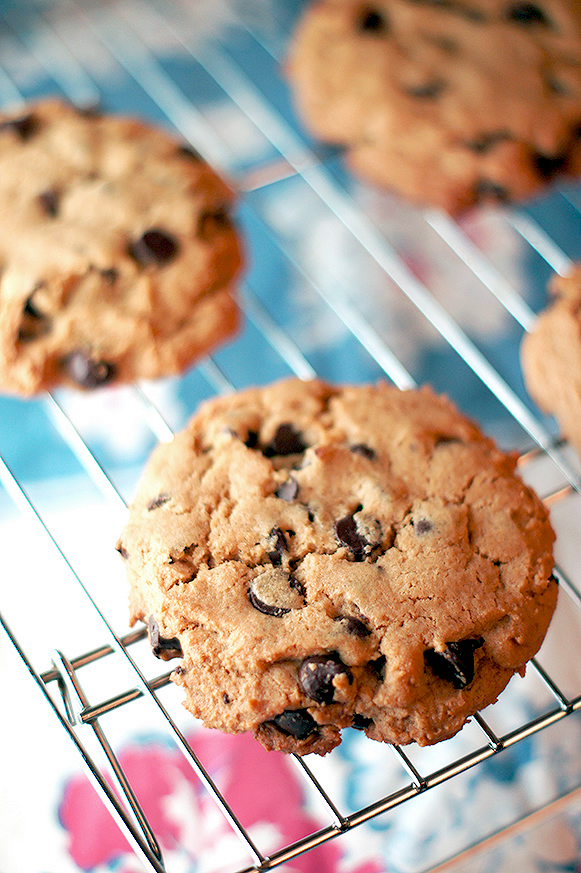 I know, I know, this is about the millionth peanut butter and chocolate recipe I've shared with you, but trust me, this one is different! The cool thing about these is that they're BIG. You know those cookies you see at coffee shops that are 4 inches in diameter? These are just like those, except they aren't $3 apiece, and you know exactly what's in them.
This is a recipe I plan to do a wholesome makeover on when I'm baking cookies for my own consumption. It's a great recipe, – the cookies turn out really nicely and the big size is always a hit, but the inclusion of corn syrup (not to be confused with the more evil HFC!!) has always bugged me a little. Still, this one is tried and true, and if you can find an organic GMO-free corn syrup, all the better.
The recipe below only yields 12 cookies, but they are quite large. Be forewarned that if you want to double the recipe, the 5qt bowl that comes with the smaller Kitchenaid mixers will be beyond capacity!
Bakery Style Peanut Butter Chocolate Chip Cookies

Print recipe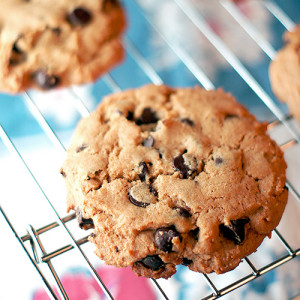 Ingredients
1/2 cups salted butter (softened)
1/2 cups natural peanut butter
1 cup dark brown sugar (packed)
1/2 cups granulated sugar
2 eggs (large)
2 tablespoons light corn syrup (organic if available)
2 tablespoons water
1 tablespoon vanilla extract
2 1/2 cups ultragrain flour
1 teaspoon baking soda
1/2 teaspoons salt
1 1/2 cups chocolate chips