Every year at Christmastime, my dad makes incredible fudge. It is SO good. Like, "sure I just ate a half dozen cookies AND a full 3 course meal, but there's always room for fudge!" good. It has become his specialty, to the extent that at holiday time and work potlucks, it is a given that Papa-Mayhem fudge is coming, lest the people riot. We even featured it on our wedding dessert bar!
This is not that fudge.
I'm saving that recipe for Christmas (Which, don't hate me for saying this, is practically just around the corner now that the kids are back in school. 😉 Eep!) But, to tide you over, here's my take on the family fudge tradition!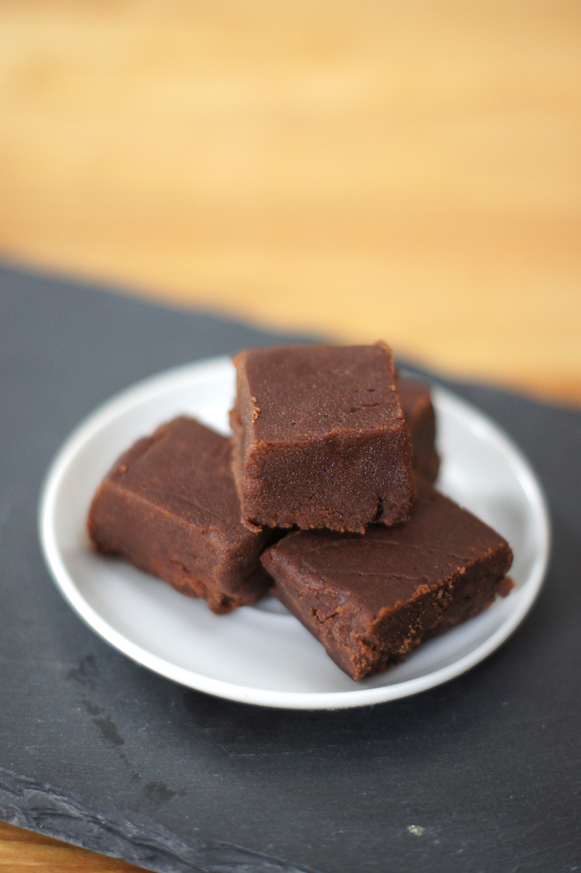 I made this for the No Kid Hungry bake sale at my office last month. It was my intention to make my dad's fudge, but when I found out we were holding the sale outside, I decided that I probably shouldn't be the jerk who brings something that needs to be refrigerated!

So, church cookbook in hand, I conjured up this glorious creation. Step one was combining the fudge recipes submitted by three different Scandinavian Lutheran grandmothers. Step two was accidentally browning my butter! 🙂
I know fudge is all the rage right now, so there is one thing I need to get out of the way – since this is my bastardization of some lovely church ladies' recipes, this is the real deal, not one of those 'faux fudge' recipes that are all over Pinterest. There's no marshmallows or pudding mix or canned frosting in this recipe, so get ready to work for it!
OK, with that disclaimer aside, you are going to love this fudge! It is so lovely – foremost, it is SO SMOOTH, not grainy like a lot of the fudge you'll get from the candy shops. Beyond that, you get the chocolatey sweetness you'd expect, but also a bit of caramely nuttiness from the browned butter. The brown butter adds just a subtle depth when this fudge is sampled on its own, but put it side by side with a regular fudge and you'll pick up on it immediately.
I'm not going to pretend it's as good as my dad's fudge, and I don't see any family fudge-offs in my future, but I think we can safely call it a close second!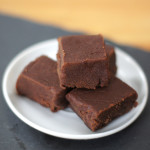 Brown Butter Fudge
Ingredients
Fudge
4 1/2

cups

granulated sugar

12

ounces

evaporated milk

recipe below, or canned

2

cups

salted butter

18

ounces

chocolate chips
Instructions
Evaporated Milk
Simmer milk in a saucepan. Allow to cook down until it yields approximately 12 ounces (1 1/2 cups)
Fudge
Brown butter and set aside. In a heavy kettle, boil sugar and milk for 8 minutes. Add butter. Add chocolate and beat with an electric mixer for 15 minutes. Pour into a greased 9x13 pan. Store refrigerated.
Recipe Notes
Recipe and photos from Mayhem in the Kitchen!