You may remember that a few weeks ago, the internet was abuzz over a New York Times piece called The United States of Thanksgiving that assigned a Thanksgiving staple dish to each state in the Union. The author said that they "scoured the nation for recipes that evoke each of the 50 states", so most states got items that had something to do with their state, usually based on ingredients produced there, or things they have an overall regional or cultural fondness for.
Idaho got Hasselback Potatoes. Texas got Turkey Tamales. Louisiana got Shrimp-Stuffed Mirlitons.
Minnesota was assigned something called Grape Salad, a dish no one from Minnesota has ever heard of, let alone made for Thanksgiving. It was an especially absurd choice given that most of the varieties of grapes we're mildly successful with here had to be genetically modified specifically for our climate. And we're the top turkey producing state. And wild rice is our state grain. And corn is our top crop. AND we will have the world's first vegan butcher shop, home of a vegan Thanksgiving turkey. Any of these would have been a better choice than grape salad.
Eventually our outrage was hashtagged #grapegate, and it became national news.
Last weekend 24 of our closest friends gathered at our house for our Sixth Annual Friends Thanksgiving. This event is one of the highlights of the year for me – we prepare turkey (and of course vegan turkey) along with a few side dishes, and our friends fill in the rest of the traditional Thanksgiving staples, potluck style. Usually I'll make the same few dishes – cranberry sauce, cheesy hash brown casserole, cowboy stew (beans in a smokey sauce), and roasted veggies. This year, I put together a special surprise that was sure to please.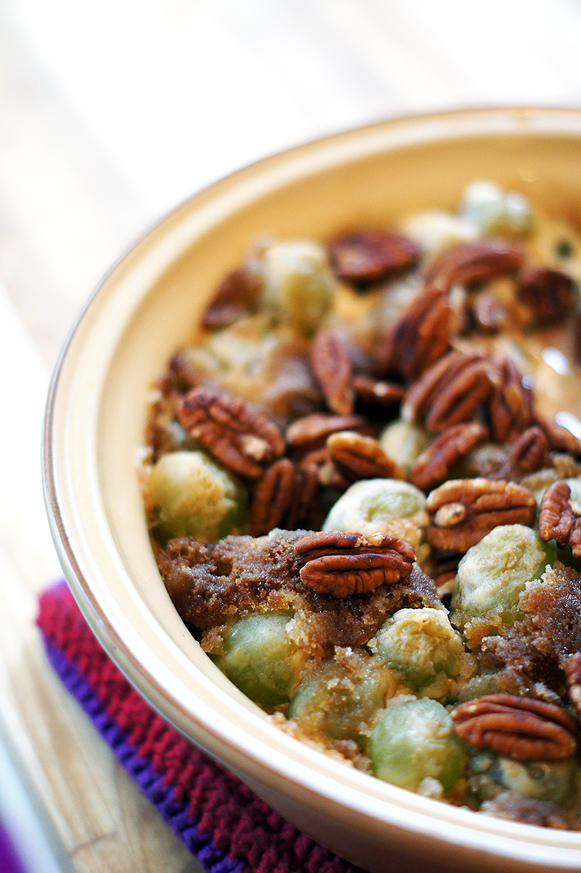 You knew it was coming. Grape Salad.
Yes, primarily as a joke, I served the dish at our Thanksgiving celebration. It was a somewhat expensive endeavor – as I mentioned before, grapes are not exactly in season here, and pecans are certainly not inexpensive. By the time I plopped down 2 cups of sour cream I started feeling guilty, knowing for certain it was going to go to waste, and once it came out of the oven looking lumpy and watery, I thought I had made a terrible mistake.
One of our local free papers, the City Pages, did an article and video on this, and went over the cooking process in detail. When I read their article I assumed quips like "Think to yourself, "Holy shit, that's a lot of sour cream."" and "what looks like dumpster juice collecting in the bottom of the dish" were there purely for humor, but as it turns out, those descriptions are 100% accurate. Want to know the crazy part though?
My friends ate it, and it was actually pretty darn tasty.
People were actually impressed – it wasn't at all what they thought it would be, and while it looks a little funky, especially with that "dumpster juice" swirlin' around, it's really not too bad! There's so much brown sugar, that the stuff that doesn't caramelize drips down into the sour cream, basically making it a sweetened sour cream that almost tastes like sweetened Greek yogurt. Don't think of it as Grape Salad. Think of it as Grapes in Sweetened Cream with Caramelized Brown Sugar. 😉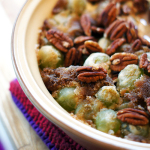 Minnesota Grape Salad
Ingredients
2

pounds

seedless grapes

removed from stems and rinsed, about 6 cups

2

cups

sour cream

1

cup

brown sugar

3/4

cup

toasted pecans
Instructions
Heat broiler. Place prepared grapes in a large mixing bowl. Coat grapes with sour cream. Place grape mixture into a 2 quart baking dish. Sprinkle brown sugar over the top. Broil, rotating as necessary, until the sugar is caramelized and crispy in spots, taking care not to scorch it. Chill before serving, at least 1 hour or up to 24 hours. Top with toasted pecans just prior to serving.
Just to be clear – the New York Times is not forgiven, even if Grapes in Sweetened Cream with Caramelized Brown Sugar isn't so bad.