If you follow me on Instagram you may have noticed that my beautiful niece (aka my birthday buddy) just turned one!
My sister-in-law and I continued our tradition and baked a cake together to mark the occasion. We waffled on the theme a little. At first we wanted to do strawberries in honor of the birthday girl's strawberry obsession, but we also loved the idea of a cupcake party. For awhile the idea was to do both (why not?) but eventually we landed on just cupcakes. For the smash cake we dusted off my old Wilton Giant Cupcake pan, and made regular sized cupcakes for everyone else.
As her big brother (now four years old) put it "WHAT? That's for HER?  That cake is big enough for everybody!" and he was completely right. 😀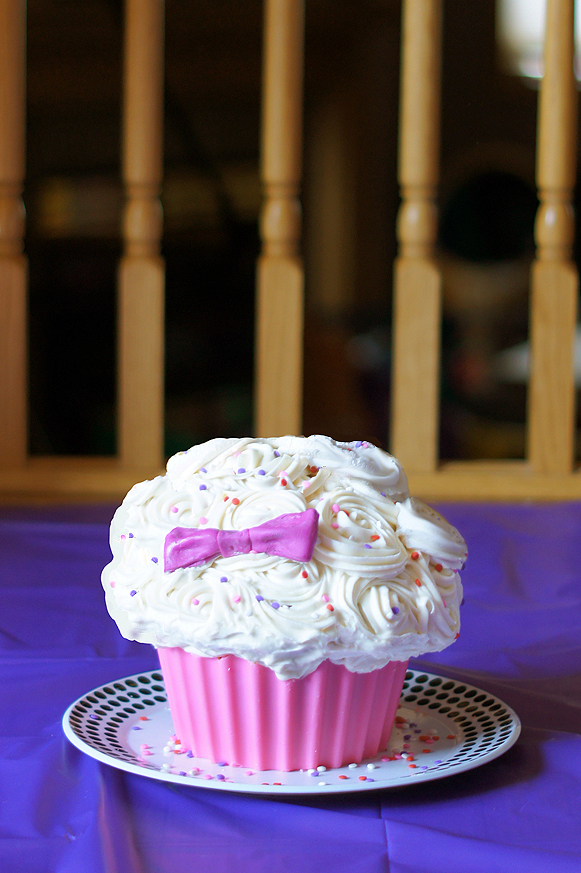 This cake was SO much fun to put together. That probably has as much to do with the company as the cake, but either way, what a blast!!
Baking cakes in this pan always makes me super paranoid (it's huge, it's prone to stick, it's detailed…) so I made the cake a day ahead of time, just in case. Still thinking we were going to go with the strawberries and cupcake theme, SIL asked me to doctor up a simple a strawberry  cake mix.  For the icing, I made a stiff cream cheese frosting for a scrumptious strawberry cheesecake inspired pairing.
The only decoration I prepared ahead of time was the cupcake wrapper. I love how the plain cake looks when it comes out of this pan, but it often looks a little 'meh' when frosted. To retain some of that cute detail, I melted some bright pink candy melts and brushed the inside of the bottom part of the pan with them. Once the pan was nicely coated I popped it into the refrigerator and headed off to work. When I came home, the candy was nice and solid, and with a little bit of tapping it released from the pain as a absolutely glorious giant cupcake wrapper. The thing looked like it was made of plastic, but was entirely edible. SO COOL!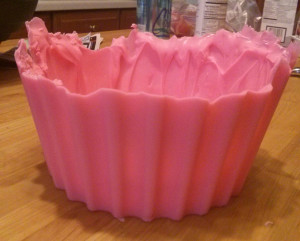 After the wrapper was a confirmed success I scarfed down some cold pizza, grabbed all of my supplies, and made the 45 minute drive to my sister-in-law's house in the suburbs. This is where the trouble started.
The long-ish drive, combined with the warm weather and a less than intelligent choice in frosting meant that by the time I arrived, the cream cheese icing was a little goopey, and no longer as pipeable as it should've been. Meanwhile, the moist and fluffy cake was feeling a little angry about being handled so often.
This is all hindsight, of course. If we'd have known all of that, things would've gone much more smoothly! Ignorant of our disastrous conditions, we got started almost immediately after I arrived. First we placed the cake into the candy melt base, then we spread a thick layer of cream cheese frosting on top of the base, and placed the top portion. Already the cake was looking adorable, and we were thinking that this was going to be our quickest creation ever! Shortly after that I put some cream cheese frosting into a piping bag fitted with a large star tip (Ateco 846 ), and tried piping on some test swirls. The icing was drooping almost immediately.
Crud.
This is when I started to wonder if we were in trouble, but, not wanting to look like an amateur and certainly not wanting to cause any alarm, I calmly placed the cake and icing into the refrigerator, and we made an extra batch of cupcakes (chocolate this time) to supplement the strawberry ones I brought. After the cupcakes came out we gave icing the cake another try, and we were much more successful. It only took us a few minutes before the entire cake was covered with adorable rosettes and sprinkles, and looking fabulous! 9pm and we were basically done! A world record!
Never satisfied, I thought the cake needed a little something extra. First we examined the cake from all angles to find its 'best side' to elect as its front, then we colored some fondant a bright fuchsia, and I rolled out a bow. After letting the bow harden for a few minutes, we plopped it on the cake and things got even cuter! Since it was barely 10pm, we started to wonder if we should add something else, like a giant fondant cherry!
Meanwhile, unbeknownst to us, the weight of the bow was beginning to cause the cream cheese icing to drip droop drop right off the side of the cake! By the time I realized what was happening, I only had enough time to catch the falling icing and cake to keep the cake plate clean.
Crud again.
Not one to panic, I whisked the cake to the refrigerator and put the piping bag in the freezer to get it extra stiff. After half an hour we pulled the cake from the refrigerator – success!The icing in the piping bag was basically frozen, but nothing some heat from my hands couldn't fix. I scraped the droopy frosting away from the cake, piped on a few rosettes, added a few sprinkles, and we were back in business! I quickly rolled a new bow, plopped it on, and promptly returned the cake to the freezer. Crisis averted, and I was home by 1am.
Crisis averted until 9am, that is. I was driving to Toys R Us to pick up a last minute gift for our birthday princess when SIL texted.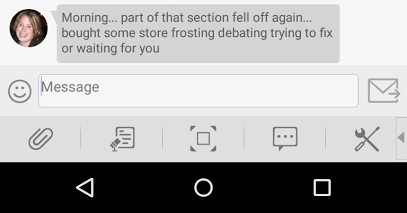 Yikes. I had my husband fire off a rapid-fire reply – "NO! Store bought frosting isn't the right consistency and will make it worse. Stop! I'm on my way!"
A cake emergency. I have trained my entire adult life for this, and was in my element. I ran home, made an extra extra stiff version of Fran's Buttercream, and I was racing to the 'burbs. Immediately after I arrived I scrubbed up and went to the refrigerator. Cake doctor's bag in hand, I reviewed my patient.
It was a classic case — unsupported cake overhanging the base cake, light but moist crumb, thickly applied heavy frosting. A recipe for disaster.
Thankfully, years of cake baking experience made the answer immediately clear: I would need to operate.
First I would remove the compromised cake, then scrape off the droopy frosting, and finally, with a clean base, perform a complete rosette reconstruction. By the time I was done, the birthday girl would definitely not know what happened, and, in theory, neither would her guests.
Start to finish, the operation only took me 5 minutes. The cake made a complete recovery, no one was the wiser.
My only complaint? The birthday girl barely touched the darn thing! We set her on the floor with the cake, and she put little more than a few crumbs in her mouth.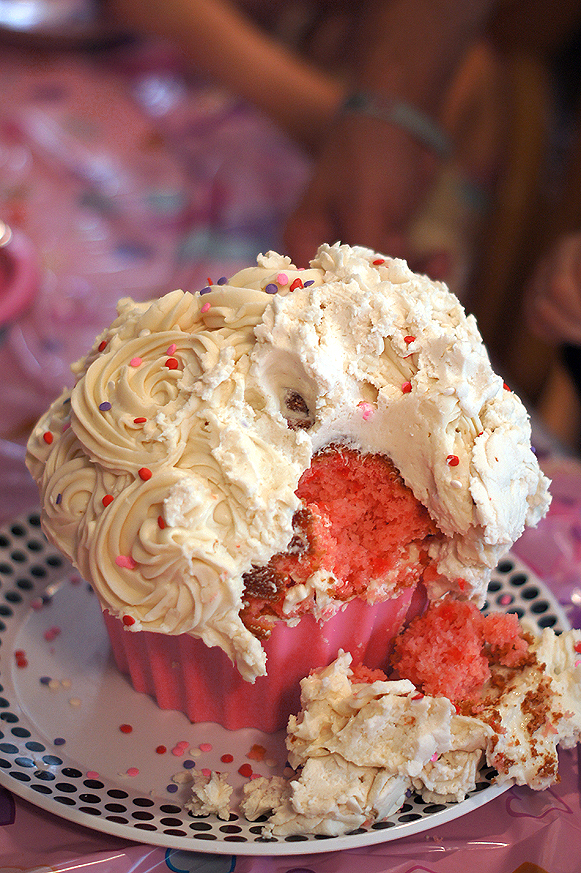 All in all, it was a fabulous party, and, despite the near-disaster, I loved baking this beauty with my sister-in-law!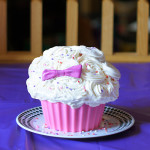 Doctored Strawberry Cake Mix
Ingredients
2

Boxes Pillsbury Moist Supreme Strawberry Cake Mix

2

cups

water

2/3

cup

oil

6

eggs

1

cup

strawberry preserves
Instructions
Add all ingredients to mixing bowl. Mix for 2 minutes. Pour into well greased pan and/or lined cupcake tin. Bake at 350 until toothpick tests clean. Will yield enough for giant cupcake pan, plus 10-12 cupcakes.
Sources
Baking
Wilton Dimensions® Giant Cupcake Pan
Betty Crocker No Fade Baking Cups
Icing
Fran's Buttercream
Satin Ice Fondant
Embellishments
Wilton 6-Mix Sweetheart Sprinkle Assortment
Wilton Bright Pink Candy Melts