You guys know me and roasted veggies, it's an obsession at this point. One dish that has been coming up a lot on social media recently has been Roasted Buffalo Cauliflower, but my husband doesn't care for buffalo sauce. Last week he was out for the evening and I had some cauliflower handy, so I figured what better time to give it a try?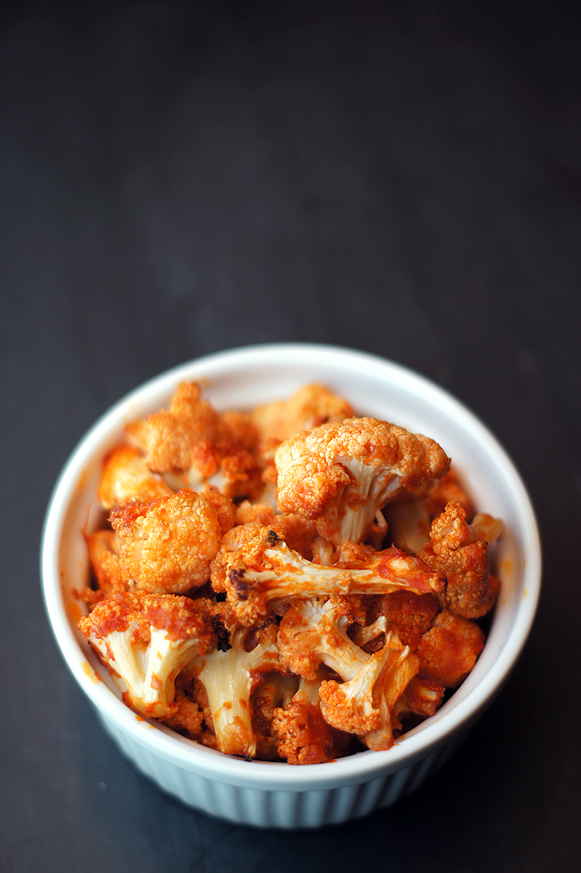 If you like buffalo wings, or heck, even just Louisiana hot sauce, you'll love this. The cauliflower and sauce complement each other perfectly, allowing both the cauliflower and the buffalo flavor to shine. I like sauce (I'm one of those weirdos who treats french fries like a ketchup spoon) so my sauce recipe is a little more generous than some of the recipes you'll find. If you prefer yours drier, you could definitely halve the sauce and still have enough for a nice coating.
Another great thing about these is that they're really clean – unless you're a raw vegan or have a cayenne allergy, you can probably eat them, and the ingredients are simple enough to be guilt free for those of us living a real/clean/whole-food (or paleo!) lifestyle.
Roasted Buffalo Cauliflower

Print recipe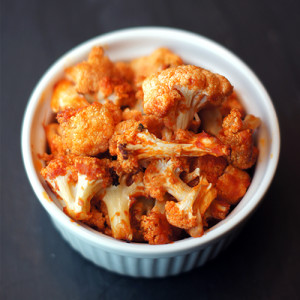 Ingredients
1 head cauliflower
1 tablespoon avocado oil (or grapeseed)
1/2 cups louisiana hot sauce
1/2 teaspoons garlic powder
Directions
Preheat oven to 450.

Cut cauliflower into medium florets. Wash, then dry well using a salad spinner or towel.

Place cauliflower in a bowl or plastic bag. In a small bowl, mix together oil, hot sauce, and garlic powder, then pour over cauliflower and toss vigorously until well coated.

Evenly spread cauliflower onto a jelly roll pan. Bake for 15 minutes, stir, then bake for another 10 minutes or until the sauce has thickened and the edges are golden.
Photos and recipe from Mayhem in the Kitchen!
https://mayheminthekitchen.com/roasted-buffalo-cauliflower/