Last night was the absolute perfect time to create an ultra chocolatey dessert – my work colleague requested "something chocolate" for her birthday treat, meanwhile, the Vikings were absolutely decimated by their biggest rival, the Green Bay Packers, so I was in a mood to eat my feelings.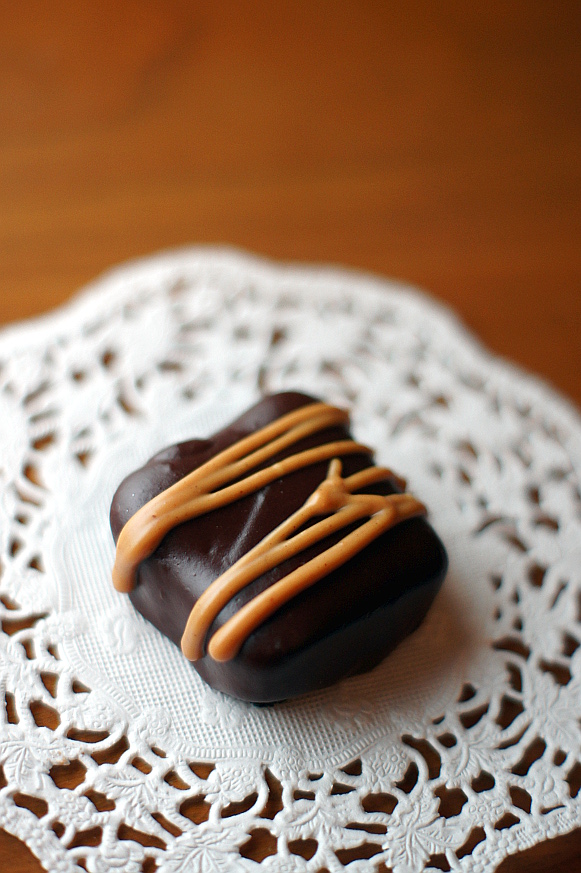 A few years back there was a mini-trend around petit fours. This was no cupcake/cake pop/whoopie pie/macaron level craze by any means, but it was big enough of a deal for Wilton to start producing pans in just the right shapes. At some point during this trend I went to Michael's with a 50% off coupon burning a hole in my pocket, and I figured I could stand to splurge on a Wilton silicon brownie bite mold.
I've used this mold a few times, but this was the first time I felt truly successful with it. Since I was making these rather late at night (post-Sunday Night Football), and having screwed up brownies in this pan before (who knew bad brownies were even possible?!) I figured it might be a good idea to find a recipe that indicated confirmed success with brownie bites. Much to my excitement, Jamie of My Baking Addiction posted about just that back in the aforementioned brownie bite craze of '09. It turns out the key was making fudgey brownies – the small size of this pan means cakey brownies end up too crunchy around the edges for my taste, but fudge brownies have the potential to come out like some sort of incredible truffle.
When it came time to cover the brownies with a nice ganache, I discovered I didn't have any heavy cream. Not wanting to run to the store, I took a chance on using half and half, and was pleasantly surprised with the results. If you're faced with the same dilemma, I encourage you to give it a try! Once the ganache set, I melted a mixture of candy melts and peanut butter, then drizzled it over the bites. For something more elaborate, you could pipe on decorations (Next time I'm thinking holly for Christmas!) or embellish them with some festive sprinkles.
Overall, I'm pretty happy with these. I brought them in to work this morning, and came home with an empty plate, which I consider a high compliment! 🙂
Double Fudge Brownie Bites

Print recipe
Ingredients
Brownie Bites
1/2 cups salted butter (melted)
1/2 cups cocoa powder
1 cup granulated sugar
2 eggs (large)
1 tablespoon vanilla extract
1/2 cups ultragrain flour
1/4 teaspoons salt
Ganache
1 cup half and half
1 cup chocolate chips
Note
Brownie batter recipe adapted from Food.com
Directions
Brownie Bites
Stir together melted butter and cocoa until dissolved. Add in sugar and mix well, then mix in eggs one at a time. Add vanilla, flour, and salt, then mix until just combined - do not overmix. Spoon into greased brownie mold. Bake at 350 for 10-15 minutes, careful to not overbake. Yields about 30 brownie bites.
Ganache
Heat half and half on medium until boiling. Stir in chocolate chips and whisk until smooth and shiny.
Decoration
Place fully cooled brownie bites in a wire rack over wax paper. Pour warm ganache over brownies allowing the chocolate to self-level. Once slightly set, embellish with candy melts, nuts, or sprinkles.
Recipe and photographs from Mayhem in the Kitchen!
https://mayheminthekitchen.com/double-fudge-brownie-bites/