Last weekend we stocked up on pears for something a little different to spice up our lunches and late night snacks. Sadly, they looked much better than they tasted. Not wanting to let them go to waste, I whipped up a nice lower-sugar fresh pear crisp.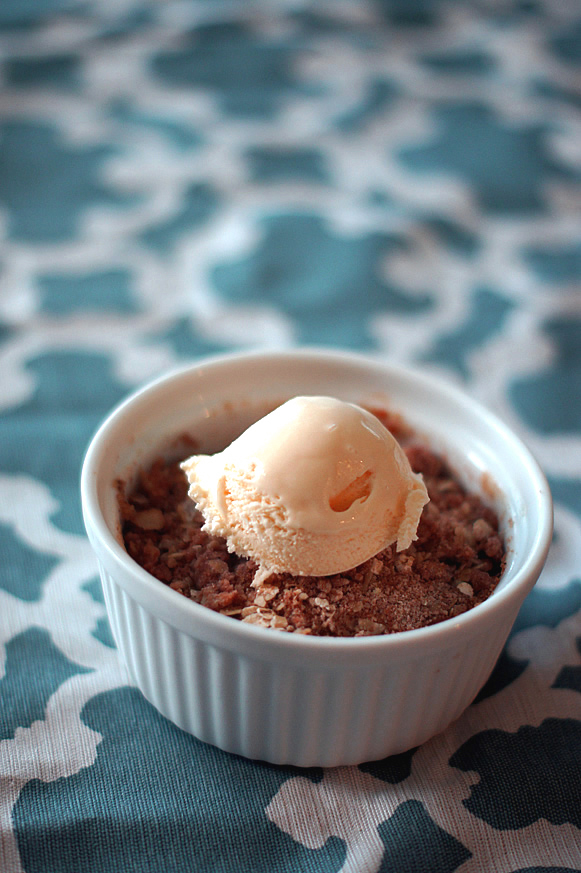 Dessert in our house is a complicated topic – I love cake (well, mostly frosting!) and my husband loves pie. I try to make pie for special occasions, but for some reason I never feel as efficient at pie making as I do with cake baking. As a result, my go-to method for answering a weeknight pie craving is usually in the form of a crisp. Crisps are great on all fronts – no special ingredients necessary, quick to toss together, and really versatile (I have yet to find a fruit that won't work, and dealing with dietary restrictions is a breeze!)
Most crisp recipes include sugar both in their streusel and in their filling, but I decided to let the fruit stand on its own and only sweeten the topping.  This results in a filling that is a little less sticky and thick, but it's a worthy tradeoff! This is easily veganized with vegan butter (Mattie's recipe is amazing), and gluten-freeafied with almond or walnut flour and gluten free oats.
I made these into individual servings in large ramekins because I think it feels a little more special, but a 9×13 pan works great too.
Pear Crisp

Print recipe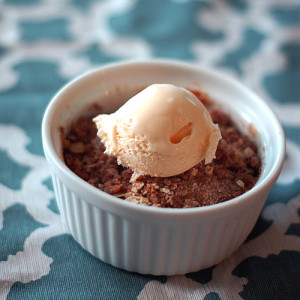 Ingredients
Filling
8 pears (peeled and diced)
1/4 cups orange juice (about 1 orange)
2 teaspoons cinnamon (ground)
1 teaspoon ginger (ground)
1 teaspoon allspice (ground)
Streusel
1 cup oatmeal (gluten free if desired)
1 cup whole wheat flour (almond or walnut flour for a gluten free option)
1 teaspoon cinnamon (ground)
1/2 cups dark brown sugar
1/2 teaspoons baking powder
1/2 cups butter (cold)