One of my husband's close friends is part of a technology start-up, so he's constantly traveling for work. As you might imagine, that means that staying in touch can sometimes get tough. Oh, AND his Instagram never fails to be full of infuriatingly exotic locales, so I'm always wayyy too envious of him. 😉
On the bright side, this means that a good excuse for a welcome back party is usually right around the corner, and there's always plenty of reason to make a bigger than normal deal out of other occasions. This year we were lucky enough to have him in town for his birthday, so I whipped up a cake to help us celebrate.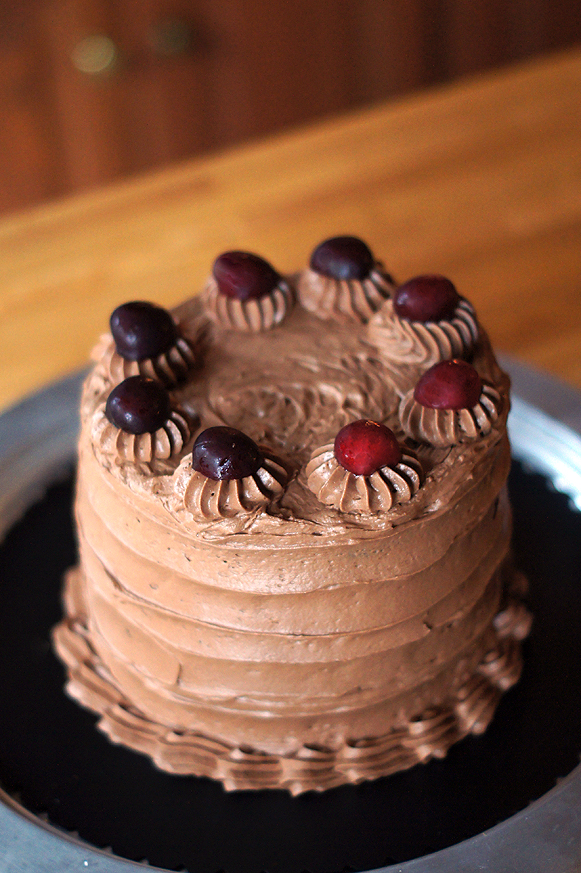 I didn't really have a plan for this cake, so I went into our library and started pulling out cookbooks, but inspiration just wasn't hitting me. Eventually I started going through my general-purpose cookbooks – Joy of Cooking, Betty Crocker, the church cookbook, and finally, in the Better Homes and Gardens cookbook (of mediocre cookies fame) I found my answer! Simple, perfect, Devil's Food. From there, I just had to come up with an icing. My husband was going through the liquor cabinet while preparing a shopping list for an upcoming bachelor party, and finally, that's when inspiration hit – Disaronno is going to go in the frosting and it is going to be delicious!!
Yes, I know, I say things are out of control all of the time, but for real this time — this thing is out of control. Chocolate cake, chocolate frosting with amaretto liqueur, topped with fresh cherries. I absolutely love how almond, chocolate, and cherries play off of each other, and this is just another one of their success stories as a flavor unit. I love that combination so much that if I didn't know better, I'd question whether this wasn't MY birthday cake!
🌰 + 🍫 + 🍒 = 💖
Also, I'm absolutely obsessed with 6″ round pans right now. I bought a set of 3×6″ rounds, and I've been making everything in them because, well, I don't know what it is, but things just turn out so darn cute in them! It's the same amount of batter, but there's something about the proportions that just ups the adorable level. I can't really explain it, but it's true!
After baking the cakes in the adorable 6″ rounds, to decorate, I generously applied frosting to the top and sides of the cake, then spread it evenly. Next, I took my offset spatula and gently held it against the side of the cake while spinning my turntable to create a smooth stripe of frosting and repeated this for the entire height of the cake. Finally, to embellish, I filled a piping bag fitted with a jumbo closed star tip (Ateco 846) and piped the bottom border, and piped large swirls on the top with a jumbo open star tip (Ateco 864.) As a final touch, I placed halved and pitted fresh cherries in the center of each swirl.
We enjoyed this with a rather generous scoop of ice cream – the cake is dense and the icing is rich, so a little ice cream really helps. I guess you could just have a smaller piece, but, um, why?!?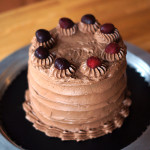 Devil's Food Cake with Amaretto Frosting
Ingredients
Cake
2 1/4

cups

all-purpose flour

1/2

cup

cocoa powder

1 1/2

teaspoons

baking soda

1/4

teaspoon

salt

1/2

cup

shortening

I use Spectrum non-hydrogenated

1 3/4

cups

granulated sugar

1

tsp

vanilla extract

3

eggs

large

1 1/3

cups

cold water
Frosting
1

cup

salted butter

softened

1/3

cup

amaretto liqueur

1/2

teaspoon

almond extract

1/2

teaspoon

vanilla extract

1/2

cup

cocoa powder

1/2

cup

half and half

4-5

cups

powdered sugar
Instructions
Cake
In a medium bowl, sift together dry ingredients and set aide.

In a large mixing bowl, beat shortening with an electric mixer on high speed for 30 seconds. Add sugar and vanilla and beat until well combined. Add eggs one at a time. Alternate adding flour mixture and water and beat until combined.

Grease and flour cake pans (four 6" pans, two 9" pans or one 9x13" pan) and line bottoms with parchment. Distribute batter evenly between pans and bake at 350 until a wooden toothpick comes out clean, 20-40 minutes, depending upon pan size.
Frosting
Cream together all ingredients except powdered sugar. Gradually add powdered sugar and beat until smooth. Additional powdered sugar may be necessary to make icing pipeable.
Recipe Notes
Recipe and photos from Mayhem in the Kitchen!
Cake recipe adapted from Better Homes and Garden's New Cookbook