When I made my first cake roll for Easter, I failed to get it rolled as tightly as I would've liked. I had extra pattern batter left over, so I figured I might as well try again. For the second cake, I made a chocolate sponge cake, applied a more elaborate decoration (again inspired by an Easter egg), and filled it with a sweetened whipped cream.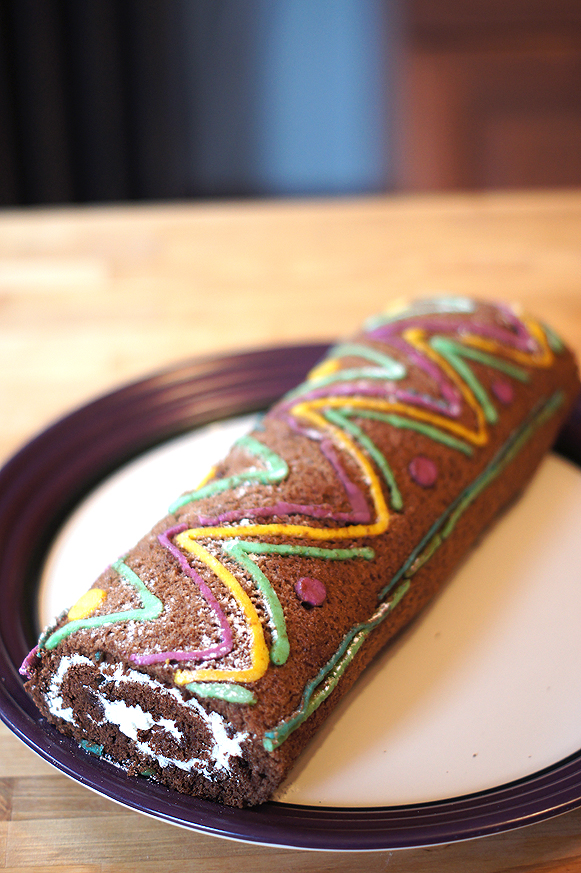 One pointer I can share with you on these that I haven't run across anywhere else is that there is absolutely no need to do the pattern over the entire jelly roll pan. You can easily get away with stopping at the halfway point because half of the cake is going to be rolled up and hidden from view anyway!
In my case, I used a 8.5×11 sheet of paper when I needed a template, decorated half the pan, and then just made sure to start at the undecorated side when doing the final roll-up.
I'd also recommend a slightly larger decorating tip – I used a pretty small round tip for this cake, and in some areas of the cake there wasn't enough surface area to keep it attached. This decoration batter will be frozen so there's no reason to worry about it spreading too much. When in doubt, go a little bigger with the design elements.
Small pointers aside, these roll cakes are so easy, but look incredible! Your friends and family will be seriously impressed if you pull one of these out at your next occasion…. just do us all a favor and don't tell them how effortless it all was! 🙂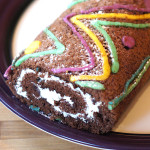 Chocolate Cake Roll
Ingredients
Pattern
1

egg white

1/4

cup

granulated sugar

1/3

cup

all purpose flour

1 1/2

tbsp

butter

softened

Coloring

as desired
Cake
4

eggs

3/4

cup

sugar

3/4

cup

all purpose flour

1/4

cup

cocoa powder

1

tsp

baking powder

1

tsp

vanilla extract

1

tbsp

water
Filling
1

pint

heavy whipping cream

1/4

cup

powdered sugar

1

tsp

vanilla extract
Instructions
Pattern
Line a jelly roll pan with parchment paper. If using an elaborate pattern, create a template and place it beneath the parchment.

Beat egg white in a small bowl. Add sugar and flour, then mix well. Beat in butter. Batter will be paste-like. Divide if necessary to add color as desired. Put batter in piping bags, then pipe the desired pattern onto the parchment paper. Put in the freezer for 15 minutes, and prepare the cake batter.
Cake
Preheat oven to 375.

Beat the eggs for 5 minutes. Gradually add granulated sugar and beat for an additional 5 minutes until the mixture is pale. Add vanilla.

In a separate bowl, sift together the flour, cocoa powder, and baking powder. Fold into the egg mixture taking care to not overmix, then add water and coloring. Stir until combined.

Remove the jelly roll pan from the freezer, and slide out the pattern sheet if necessary. Pour the batter over the piped pattern. Bake for 10 minutes or until springs back when pressed gently.
Filling
Combine whipping cream, powdered sugar, and vanilla. Whip until stiff peaks form.
Assembly
Flip cake out onto a piece of parchment or wax paper. Once flipped, pull the parchment paper off of the decorated side. Flip it over again, this time onto a clean dish towel. Roll the cake, starting from the side opposite from the pattern, and allow to cool.

Unroll the cake and spread it with icing. Roll cake again into a tight spiral. Slice off the ends of the cake with a serrated knife to clean up the edges if necessary.
Recipe Notes
Recipe and photos from Mayhem in the Kitchen!