Last week I was invited to a surprise party for a very close friend. His girlfriend wasn't able to bake for the occasion without blowing her cover, so I volunteered to make my first foray into keto-friendly (low carb, LCHF) baking.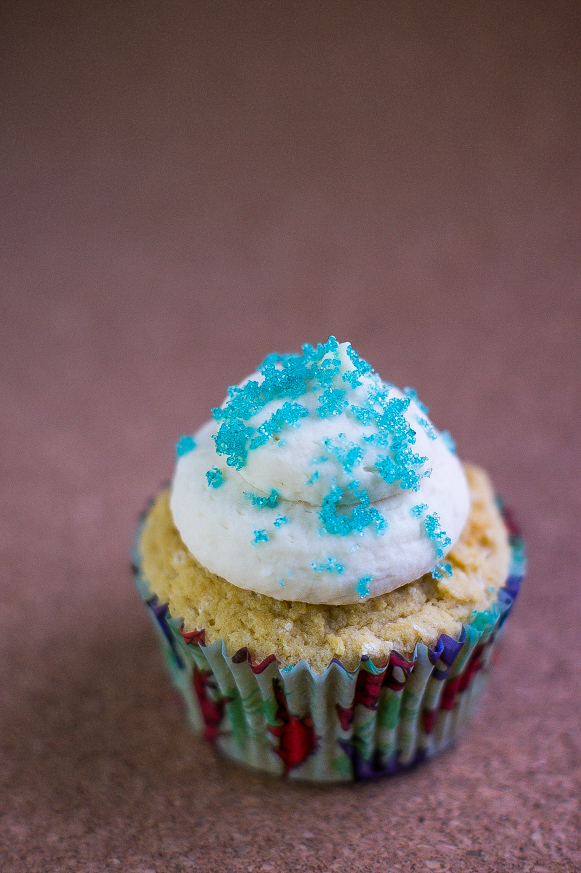 Prior to making these cupcakes I did some extensive research on flour replacements and narrowed my options down to almond flour and coconut flour. I've done quite a bit of gluten free baking, so almond flour wasn't new to me, but I'd never had an occasion to try coconut flour, and figured this was a great time to do so. The biggest issue with baking with coconut flour seems to be making sure things stay moist. As a result, this recipe is heavy on both eggs and butter, but the cupcakes, while somewhat muffin-like, aren't nearly as dense as you might imagine they would be.
Choosing a sweetener also required research – most of my sugar replacement experiments have focused on cutting out processed sugars, not so much on limiting carbs, so in this case few of my usual sugar replacements were an option. I eventually opted for erythritol, which I also powdered myself using a coffee grinder for the icing. Erythritol is only about 70% as sweet as sugar, so I also supplemented it with some liquid stevia just to give it a little more oomph. I will caution that if you're not used to erythritol, it does have a strange cooling sensation. If you've ever noticed that odd, almost minty, coolness when using Truvia, that's the erythritol. For some items (especially peppermint flavored foods) this coolness will go unnoticed, but be aware that the sensation may be somewhat unpleasant if you're not expecting it.
When it came time to decorate, I couldn't use regular sprinkles, so I made my own by mixing a few drops of natural food coloring into Truvia and allowing it to dry for several hours.
These aren't quite a stand-in for white cake as the flour gives the cupcakes a subtle coconut flavor, but I think you'll find they're a wonderful cake replacement if you or someone you love is living a low carb lifestyle.
Low Carb Vanilla Cupcakes with Cream Cheese Frosting

Print recipe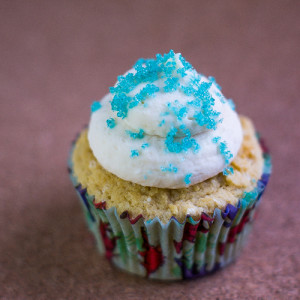 Ingredients
Low Carb Vanilla Cupcakes
1 cup almond milk (unsweetened)
1 vanilla bean
1 cup coconut flour
3/4 cups erythritol
1 tablespoon baking powder
1/2 teaspoons salt
7 eggs (large, beaten)
1/2 cups salted butter (melted)
2 teaspoons vanilla extract
1/2 teaspoons liquid stevia extract
Low Carb Cream Cheese Frosting
16oz cream cheese (at room temperature)
1 cup salted butter (softened)
3/4 cups powdered erythritol
1/8 teaspoons liquid stevia extract
1 tablespoon vanilla extract
Directions
Low Carb Vanilla Cupcakes
Place almond milk in a small saucepan. Split the vanilla bean and scrape the seeds into the milk. Heat milk over medium heat and bring to a simmer, then add vanilla pod to the milk. Remove from heat, then allow to soak for 30-45 minutes. Remove vanilla bean.

Sift coconut flour, erythritol, baking powder, and salt into a large bowl. Add eggs, melted butter, and almond milk and mix well. Add extracts and mix until smooth.

Divide batter between lined cupcake tins, filling the cups completely. Bake for 20-30 minutes or until a toothpick comes out clean.

Yields 16-18 cupcakes.

Recipe adapted from All Day I Dream About Food
Low Carb Cream Cheese Frosting
Cream together cream cheese and butter. Add vanilla extract. Continue to mix while gradually adding powdered erythritol until the desired consistency is reached.
Recipe and Photos from Mayhem in the Kitchen!
https://mayheminthekitchen.com/low-carb-vanilla-cupcakes/