Yes. Yet another chili recipe. I know. I can't help it! These Minnesota winters make me do it! 🙂
I've shared a couple of other recipes with you in the past, and those ones are still awesome, but I decided that it'd be fun to try something new. I did a few searches through my favorite sites, and when I came across a recipe named "The Best Vegetarian Chili in the World" I figured I just had to go with that one.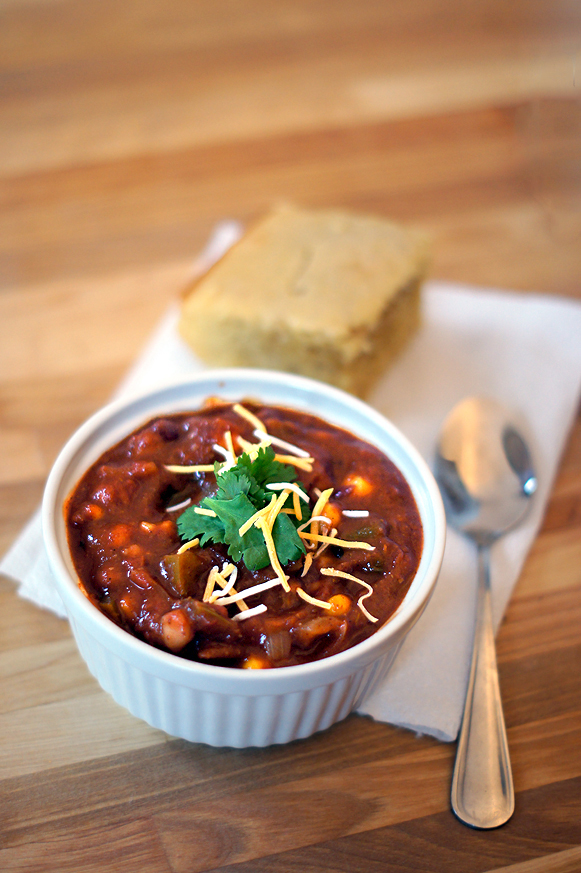 My husband bike commutes and works very close to our nearest Whole Foods, so (being an avid a chili eater) he offered to stop for groceries, but there was one minor problem – The Best Vegetarian Chili in the World contains 11lbs of canned goods, putting into the not unplanned-bike-trip friendly category. Shucks.
So, to make things a little easier on my husband, I modified the recipe a bit – I kept all of the spices listed in the original, but adjusted to include more ingredients we had on hand, and skipped the fake meat because, meh, who needs it? I can't say it is The Best Vegetarian Chili in the World, because I haven't had the original, but it has to be darn close! If you like a little heat like we do, I'd recommend adding a few drops of Tabasco sauce right in your bowl. The Tabasco gives it a nice kick, but also adds a slightly acidic vinegar flavor that I really enjoyed.
For our corn bread, we mixed things up a little. I made my usual recipe (though I accidentally doubled the eggs… it was still delicious) but added a maple syrup glaze that moistened the top and gave it a nice sweetness. It was really simple –  once the regular recipe was done, I poked a few holes into the cornbread with a toothpick. Then, I melted 3Tbsp of butter, mixed in 2Tbsp of maple syrup, and brushed it onto the top of the cornbread. Once the mixture was fully distributed, I put the cornbread back into the oven for 2 minutes.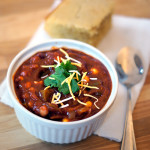 Easy Vegetarian Chili and Cornbread
Ingredients
1

tablespoon

olive oil

1

medium onion

chopped

2

bay leaves

1

teaspoon

ground cumin

2

tablespoons

dried oregano

1

tablespoon

salt

2

stalks celery

chopped

2

green bell peppers

chopped

2

jalapeno peppers

chopped

3

cloves

garlic

chopped

2

4 ounce cans chopped green chile peppers, drained

1

15 ounce can diced tomatoes

1

15 ounce can crushed tomatoes

1

10 oz can tomatoes and chiles

1/4

cup

chili powder

1

tablespoon

ground black pepper

2

15 ounce cans kidney beans, drained

1

15 ounce can pinto beans, drained

1

15 ounce can spicy black beans

7

ounces

1/2 can white beans, drained

1

cup

whole kernel corn
Instructions
Heat oil in a stock pot over medium heat. Stir in the onion, and season with bay leaves, cumin, oregano, and salt. Cook and stir until onion is tender, then mix in the celery, green bell peppers, jalapeno peppers, garlic, and green chile peppers. Reduce heat to low, cover pot, and simmer 5 minutes.

Mix the tomatoes into the pot. Season chili with chili powder and pepper. Stir in the kidney beans, pinto beans, black beans, and white beans. Bring to a boil, reduce heat to low, and simmer 45 minutes. Stir in the corn, and continue cooking 5 minutes before serving.