After my grandpa passed away we stopped doing a big extended family Thanksgiving, so my mum started doing a smaller scale dinner with just our nuclear family. This meant an abbreviated menu, but one of the items that made the cut was this cheesy hash brown casserole.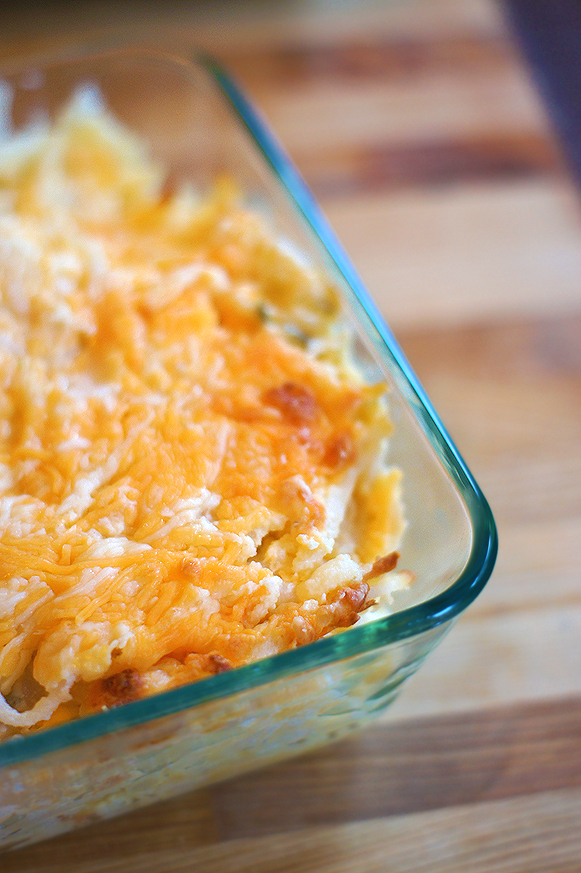 Originally this recipe wasn't vegetarian, but it only took slight modification to get it there, so this stayed on the menu even after I made the transition to vegetarianism in my early teens. Vegetarian, of course, should not be confused with low calorie – this puppy is creamy and cheesy and delicious, without anything held back! I love it!
The other thing I love about it is that it can be prepped in advance. When we have our friends thanksgiving I'll often put this together the night before so that all I have to do the day of the event is pop it into the oven.
Typically this is a Thanksgiving recipe for our family, but it sometimes comes out at Easter or Christmas as well.  I could definitely see it being made very occasionally as a side-dish for a regular weeknight dinner or weekend breakfast, but I'd probably make a half-recipe unless you have a big family! 🙂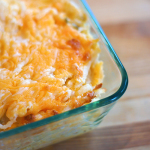 Vegetarian Cheesy Hash Brown Casserole
Ingredients
20

oz

shredded potatoes

fresh or refrigerated

10

z can cream of celery soup

2 1/4

cups

10 oz shredded cheddar cheese, 1/4 cup reserved

3/4

cup

sour cream

1

chopped yellow onion

1/4

cup

salted butter

melted

1/2

tsp

paprika
Instructions
In large bowl combine potatoes, soup, 2 cups cheese, sour cream, onion, and butter. Mix well. Spread into a greased 8x8 baking dish then sprinkle with remaining 1/4 cup cheese and paprika.

Bake at 350 for 45 minutes or until the potatoes are tender, the cheese is bubbling, and the edges are beginning to turn golden brown.
Recipe Notes
Recipe and photos from Mayhem in the Kitchen!