Every year one of my colleagues asks for a lemon poppy-seed dessert for his birthday. I've made everything from a classic pound cake to lemon poppy-seed cookies, and nothing has been quite right. Sometimes it's the texture, other times they're too dry, other times they're simply not lemon-tastic enough.
This year I think I've finally found a winner!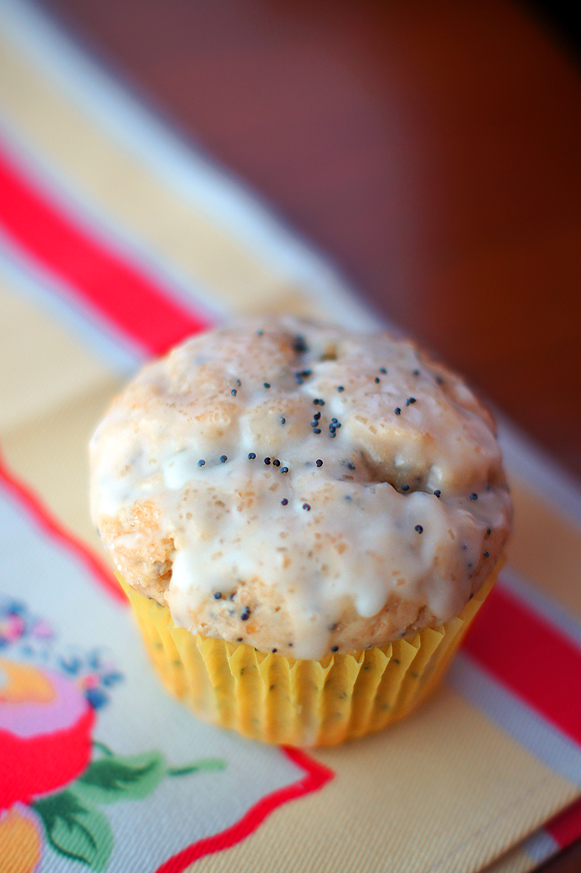 I usually find baking for my coworkers' birthdays a treat, but in this case, I had a little anxiety around the idea, simply because I've had so much difficulty with this flavor combination in the past. Fortunately, these were all-around winners – just enough lemon flavor, and a dense muffin-y crumb with just the right amount of moisture.
It's rather uncommon for non-chocolate (or non Glam Doll Donut) treats to get gobbled up so quickly, but these were a real hit. Next time I'll be experimenting with other citrus flavors, perhaps more focus on lime, or even grapefruit or orange?
Lemon Poppy-seed Muffins

Print recipe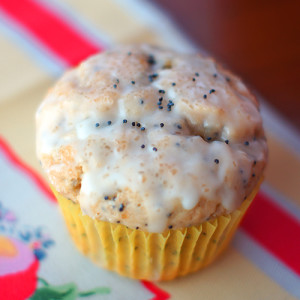 Ingredients
Muffins
2/3 cups granulated sugar
3 teaspoons lemon zest (about 1 lemon)
2 cups ultragrain flour
2 teaspoons baking powder
1/4 teaspoons baking soda
1/4 teaspoons salt
3/4 cups sour cream
2 eggs (large)
3 tablespoons lemon juice (about 1 lemon)
1 tablespoon lime juice
1 1/2 teaspoons vanilla extract
1/2 cups salted butter (melted, cooled)
2 tablespoons poppy seeds
Glaze
1 1/2 cups powdered sugar
2 tablespoons lime juice
2 tablespoons lemon juice
1/4 cups coarse sugar
1 teaspoon poppy seeds
Directions
Muffins
Using a paddle attachment, stir together lemon zest and sugar until fragrant. Add dry ingredients and stir together. In a small bowl, whisk together wet ingredients. Pour wet ingredients over dry, and mix until just combined, making sure not to overmix. Gently stir in poppy seeds. Place paper liners in a standard (12 cavity) cupcake tin, and divide batter evenly using a 1/4c (ice cream) scoop.

Bake at 400 for 18-20 minutes or until test done. Do not overbake.

Yields 12 muffins.
Glaze
Mix together lemon and lime juice. Gradually whisk into powdered sugar until it is just moistened enough to drizzle. Drizzle glaze over the muffins once they have cooled, then sprinkle with coarse sugar or poppy seeds if desired.
Adapted from Baking: From My Home to Yours by Dorie Greenspan


Recipe and photos from Mayhem in the Kitchen!
https://mayheminthekitchen.com/lemon-poppyseed-muffins/