Last week I had two office birthdays to bake for, so after going all out with Chai Tea Latte Cupcakes, I decided to go a little more low key for the second birthday and made another batch of chocolate chip cookies.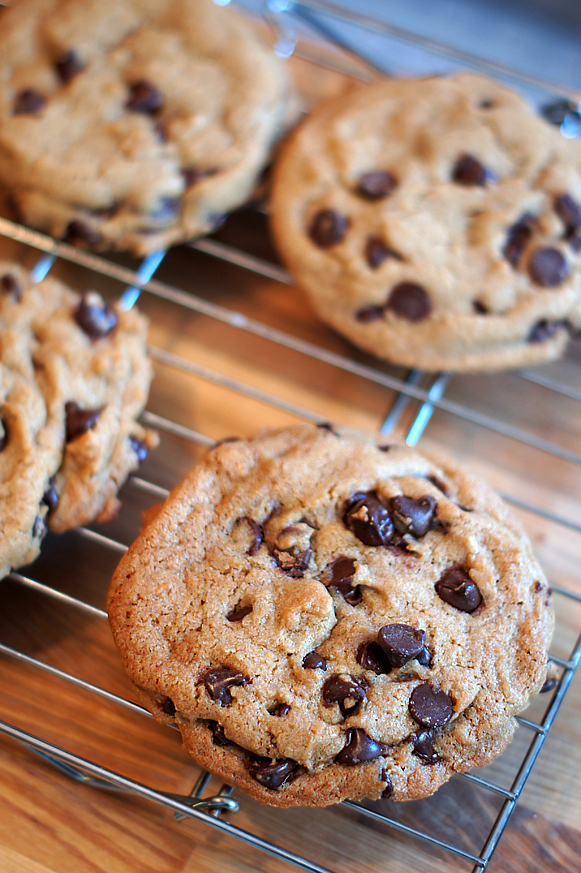 Thankfully, most of the cookies I've been making lately have been for neighbors, so my coworkers don't have chocolate chip cookie fatigue. 🙂 Unlike the last batch of cookies I made, everyone agreed these were fantastic! They tasted amazing, and the recipe yielded 16 perfect large bakery style cookies which were great for a celebration.
I don't have much else to say about these except that they were delightful, and several people asked for the recipe. If you're looking for a chocolate chip cookie that rivals the ones you'll find at your favorite coffee shop, these are it!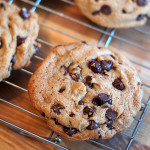 Big Chocolate Chip Cookies (Chocolate Chip Cookie #8)
Ingredients
2

cups

all-purpose flour

1/2

teaspoon

baking soda

1/2

teaspoon

salt

3/4

cup

salted butter

melted

1

cup

packed dark brown sugar

1/2

cup

granulated sugar

1

tablespoon

vanilla extract

1

egg

1

egg yolk

2

cups

semisweet chocolate chips
Instructions
Sift together dry ingredients and set aside. Cream together the melted butter and sugars until well blended. Beat in vanilla and eggs until light and creamy. Add dry ingredients and mix until just blended. Stir in chocolate chips using a wooden spoon. Drop onto cookie sheets lined with parchment or silpat using a 1/4" disher (cookie/ice cream scoop) or measuring cup.

Bake at 325 for 15 to 17 minutes or until edges are lightly golden. Allow to cool slightly before transferring to a wire rack to cool completely.
In other news, we just got back from a long weekend in Nevada and Arizona to celebrate our 4th wedding anniversary. First stop was Las Vegas, then Area51, then the Grand Canyon. It was an action packed weekend, and we had a fabulous time. The weather wasn't fantastic, and we suffered through a blizzard during our Grand Canyon mule ride, but it was overall a really lovely escape. We did our anniversary dinner at the Wynn, which was fantastic because Steve Wynn is a vegan and has made sure there are vegan options at all of his restaurants! How many times have you seen a Michelin Star restaurant that has an entire vegan menu? Too cool!
Prior to the trip I picked up a new lens to practice with – a 10mm f/2.8 ultra-wide angle lens. It's fully manual which was a challenge, but it allowed me to snap some really fun shots, and I'm SO excited to use it for architectural shots in Europe later this year.