Is there an official food of Valentine's Day? If not, I'm declaring it chocolate.
I won't get into the nitty gritty and specify which type of chocolate, or what should be done with it, but I'm positive chocolate IS where it's at.
My chocolate dish of choice this year? French silk pie.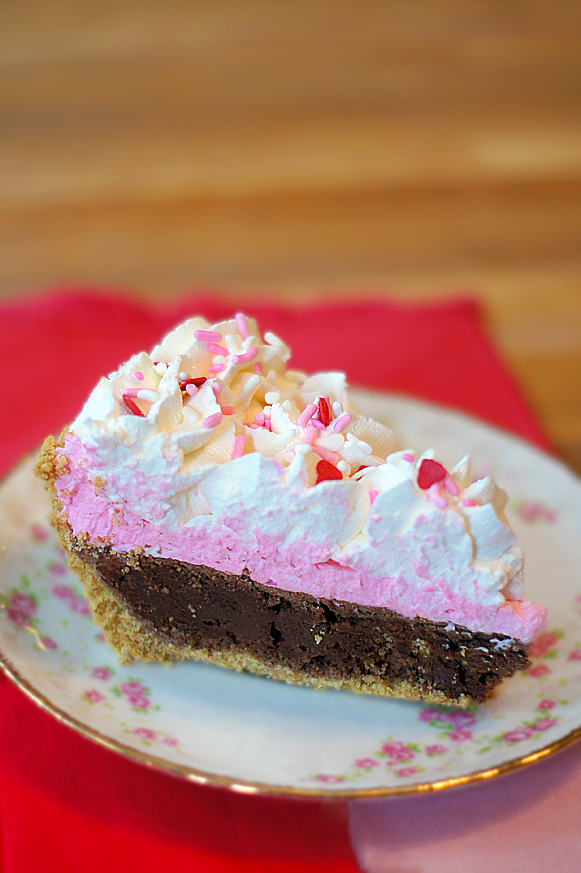 I think my love for French Silk Pie formed during my teenage days when I was constantly hanging out at 24-hour diners. I'd usually order a beverage with unlimited refills, either coffee or a soda, and a slice of pie. My friends and I would sit in a booth darn near all night long, chatting, sipping our beverages, and slowly eating our pie.
These days, I don't get out to 24-hour diners much, and I'm not eating pie too often, but doesn't French Silk sound just fantastic for Valentine's Day?  And, to make it extra special, rather than picking it up from a restaurant or bakery, why not make it from scratch?
I've seen a few recipes that make use of Cool Whip or instant pudding, which seems fine in a pinch, but if you're going to go to the trouble of making something like this, especially for a special occasion, you might as well go all out. Fortunately for you, going all out isn't as crazy as it sounds. Yes, it takes considerably more effort, but there's nothing difficult about it. If you have an electric mixer (preferably a stand mixer, but a hand mixer works) the thing will practically make itself. You've got this!
This pie is fantastic in every way – it's chocolatey, creamy, and decadent – SO much better than those boxed pudding pies. I did make an unusual decision for a scratch pie in that I chose a graham cracker crust because I like the added sweetness, but, the filling is the real star here anyway, so you could definitely use your preferred flour crust (even frozen if you must) and it will be just as delicious.
The only real downside of this recipe is that I went the traditional route, so it does contain raw eggs. If you or someone you're serving it to is pregnant or immunosuppressed  (elderly, very young, very ill) it might not be the best idea. Pasteurized eggs may be a solution for you, but I would do your own research on that option, as this isn't exactly my area of expertise. At a minimum, if you're planning on serving this at a gathering of some kind, the eggs should probably be mentioned so people can make their own decision about it.
Anyway, this thing is amazing…. just don't eat too much of it, because it's super rich, and I don't want you to spend Valentine's Day napping. Unless that's your idea of a perfect Valentine's Day. In that case, have two slices. 🙂
Do you guys have any big plans for Valentine's Day? Going out with your honey? Staying in with your girlfriends? My husband and I have tickets to go see Bill Nye the Science Guy during the early afternoon, and then we're doing dinner at home afterward. Not exactly standard Valentine's Day fare, I know. I do get very excited at any chance to dress up, but with the droves of people torturing overworked/under-appreciated restaurant staff this weekend, we figured staying home might be the best option. Oh, and a chance to see Bill Nye just seemed too cool to pass up. 🙂
I hope you all have a fantastic Valentine's Day weekend! xox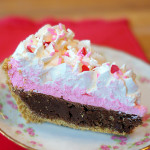 Valentine's Day French Silk Pie
Ingredients
Graham Cracker Crust
1 1/2

cups

finely ground graham cracker crumbs

1/3

cup

granulated sugar

1/3

cup

salted butter

melted
Chocolate Pie Filling
4

ounces

semi-sweet baking chocolate

1

cup

salted butter

softened

1 1/2

cups

granulated sugar

1

teaspoon

vanilla extract

4

eggs

large
Whipped Topping
2

tablespoons

sugar

1

cup

heavy whipping cream
Instructions
Graham Cracker Crust
Mix ingredients until well blended . Press mixture into a 9 inch pie plate.

Bake at 375 degrees for 7 minutes. Allow to cool before using.
Chocolate Pie Filling
Melt chocolate and allow to cool. Place butter and sugar in a large bowl, then beat with an electric mixer until fluffy. Drizzle cooled chocolate over the butter/sugar mixture.

Switch to whisk attachment. Add vanilla extract and beat until combined. Add eggs one at a time at five minute intervals, beating continuously on medium speed for 20 minutes total. Pour filling into the cooled pie shell and smooth the top. Chill for at least 2 hours.
Whipped Topping
Chill a metal mixing bowl and whisk attachment in the freezer for at least 10 minutes.

Place sugar and cream into the bowl. Whisk just until the cream reaches stiff peaks. If desired, separate out 3/4 cup of whipped cream and add food coloring.

Top pie (first with the colored whipped cream in a thin layer, then the plain) and serve immediately, or chill whipped topping until ready to serve and beat for 10 minutes before topping the pie. Garnish as desired with seasonal sprinkles or chocolate curls.