I hope all of the mamas out there had a fabulous Mother's Day! My husband and I were lucky enough to visit with my family in the morning, and his in the evening for a full day of mom-ness. For my mum, we did a light breakfast of coffee and coffee cake, and for his we served a healthy dinner.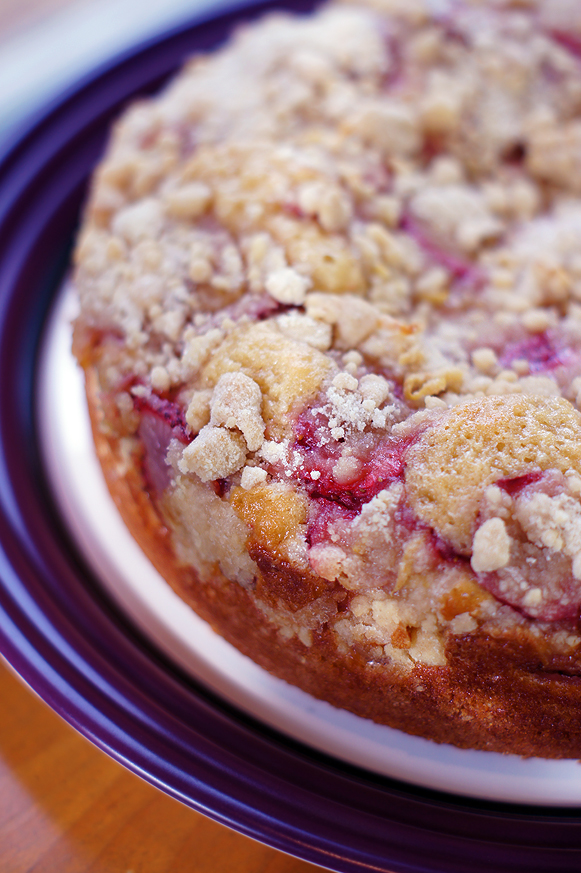 Since this was a special occasion, I couldn't go with one of my tried and true recipes – everyone has had those a million times before, and that just wouldn't do!  I figured that since I was already purchasing strawberries for my mother-in-law's dinner salad that it'd make sense to do something with strawberries for my mum as well. Plus, who doesn't like strawberries?
I went with Strawberry-Lemon, but this is another one of those recipes that could be switched up in any number of ways. Blueberry-lime? Raspberry-orange? Blackberry-grapefruit? Oh yes. You could also play with the yogurt and extracts a little – I love the idea of amping up the lemon with a little lemon yogurt or lemon extract.
This thing has barely digested and I'm already looking forward to making it again! Delish!
Lemon-Strawberry Coffee Cake

Print recipe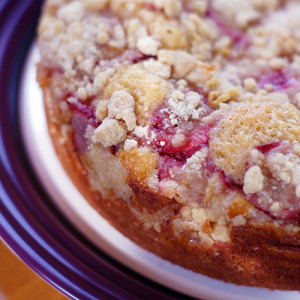 Ingredients
Lemon Crumb Topping
1/2 cups ultragrain flour
1/3 cups granulated sugar
1 tablespoon lemon zest (about 1 lemon)
4 tablespoons salted butter (melted)
Strawberry Coffee Cake
1 3/4 cups ultragrain flour
1 cup granulated sugar
2 teaspoons baking powder
1/4 teaspoons baking soda
1/4 teaspoons salt
3 eggs (large)
1 cup vanilla yogurt (or sour cream)
1 teaspoon vanilla extract
2 cups strawberries (sliced)
Directions
Lemon Crumb Topping
Combine flour, granulated sugar and lemon zest in a small bowl and whisk together. Add melted butter and stir with a fork until crumbly.
Strawberry Coffee Cake
Combine flour, sugar, baking powder, baking soda and salt in a large bowl. In another bowl, whisk together eggs, yogurt, and vanilla until well blended. Gradually add dry ingredients to wet and mix until no streaks remain, being careful not to overmix. Evenly spread the batter into a greased and floured 10" springform pan. Place sliced strawberries over the batter in an even layer. Sprinkle crumb topping over the berries.

Bake at 350 for 35-40 minutes or until tests done with a toothpick. Allow to cool slightly, then release from pan.
Recipe and photos from Mayhem in the Kitchen!
https://mayheminthekitchen.com/lemon-strawberry-coffee-cake/