A few weeks ago my three year old nephew was telling me how much he loves the itty bitty pie pumpkin he got at the pumpkin patch, and I (not thinking about just how deep his attachment might run) suggested we turn it into a pie. Surprisingly, he was very enthusiastic about this idea, so I took a day off from work, and we turned his liiiiiitle pumpkin into a biiiig pie.
I certainly had my doubts about my nephew's dedication to the project, so I brought along canned pumpkin (just in case he wasn't quite ready to part with the pumpkin afterall) and some Halloween crafts (just in case his interest waned.) Thankfully, his enthusiasm carried through the entire process, from slicing up the pumpkin and turning it into puree, all the way to enjoying the fruits of our labor several hours later.
As I've talked to people about this amazing pie (and the fun process of creating it), there are a few things that stick out in my mind – first, that most people don't actually bake their own pumpkin pie for Thanksgiving anymore, and secondly, that everyone finds the concept of homemade pumpkin puree to be completely foreign!
Store-bought pie wasn't exactly news to me – when Costco is selling a gigantic pie for a few bucks and you're there anyway,  I can definitely understand why you would happily cross that item off your to-do list. Especially when you've eaten pre-made pies for so long you don't know what you've been missing.
Pumpkin puree on the other hand was a definite surprise to me. With all of the pumpkin hype out there, no one I know has been curious enough to make something from an actual fresh pumpkin!? Sure, I keep some pre-made broth in the pantry just like everyone else, and canned pie filling can be great in a pinch, but I still know plenty of folks who would at least know where to start if they wanted to make those things themselves. Pumpkin puree, however, appears to be something most people just never consider making. Lucky for you, I've done the legwork and can tell you that making your own pumpkin puree is quick, easy, and SO delicious!Combine that home-prepared fresh pumpkin (or, OK, canned pumpkin too!) with your own mix of spices, and you're on your way to an out of this world pumpkin pie.
I realize that adding one more item on your already mind-numbingly long Thanksgiving to-do list sounds like a terrible idea, but if a three year old and I can make it, anyone can! Plus, it's SO worth it – the reviews on this sucker were incredible. When a man over 60 years of age says it's the best pumpkin pie he has ever had, you need to take notice.
The filling is definitely the star of the show, but the gingersnap crust is a nice twist that really packs in the flavor and helps to set the pie apart. If you're not a gingersnap fan you could definitely go with a traditional crust, or even sub in graham crackers, but I'd suggesting giving it a try with gingersnaps first! I will admit that if I had it to do over again, I might make the gingersnaps myself too, just so this would be a fully scratch pie,  but I think that's just me trying to keep up with the blog-joneses. 🙂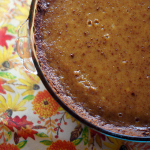 Fresh Pumpkin Pie with Ginger Snap Crust
Ingredients
Crust
6

oz

gingersnap cookies

1

tbsp

dark brown sugar

1

tsp

ground ginger

2

tbsp

salted butter

melted
Pumpkin Puree
1 4-6

lb

baking pumpkin OR 1 16oz can pumpkin puree
Filling
2

c

pumpkin puree

3/4

c

packed dark brown sugar

3

eggs

large

1

c

half-and-half

1

tsp

ground ginger

1

tsp

ground cinnamon

1/4

tsp

ground allspice

1/8

tsp

ground cloves

1/4

tsp

ground nutmeg
Instructions
Crust
Combine gingersnaps, brown sugar, and ginger in a food processor, and process until the cookies are fine crumbs. Add butter. Pulse until combined. Press mixture into a 9-inch pie tin. Bake at 350 for 10-12 minutes. Allow to cool before filling.
Pumpkin Puree
Rinse pumpkin to remove any dirt or residue. Slice off the stem, then cut pumpkin into quarters. Scoop out fiber, reserving seeds for toasting. Roast at 400 for 35-45 minutes or until tender enough for a fork to be inserted easily. Allow to cool. Remove the flesh from the skin, then pulse the flesh in a food processor until smooth. Strain in cheesecloth to remove excess liquid if necessary.
Filling
Whisk the pumpkin, brown sugar, eggs, half-and-half, ginger, cinnamon, allspice, cloves, and nutmeg in a bowl. Pour into the prepared crust; bake at 350 until the edges are set but the center still quivers, about 1 hour.
How are your Thanksgiving preparations coming along? Do you make your own pie on Thanksgiving, or do you prefer to let Sara Lee handle it?