I've been a vegetarian since I was in middle school, and people always ask me if I ever crave meat. I can honestly say that I never have, but you know what I DO crave on a regular basis?
Sweet glorious gelatin in all its forms.
Gummy candies (peach rings especially, though Sour Patch Peaches are a good substitute, so I always snatch them up when I see them at those tourist-trap candy shops), Jell-O, marshmallows, candy corn, Necco wafers, frosted Pop-Tarts, yogurt in interesting flavors….. The list goes on. I miss it all.
There's one treat that I miss more than all the others:  Conversation Hearts.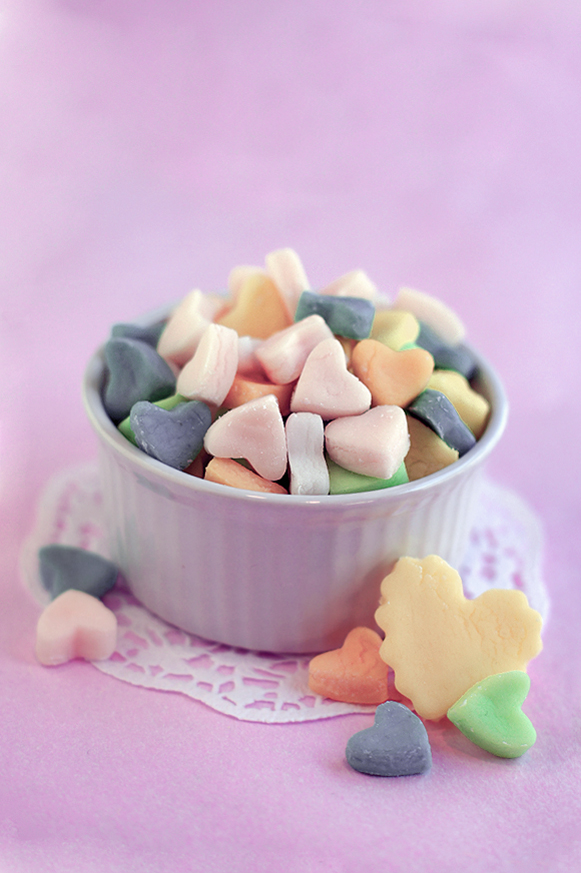 I think what it is about conversation hearts (and Necco wafers) is that I really like anise and wintergreen, but I'm not entirely sure anymore. I just know that I want them, and every year around this time I check the packages to see if they've figured out a way to make them without gelatin, and every year I'm disappointed. When Skittles went gelatin-free I hoped other companies would follow suit, but it has been slow going. So, this year, after 15 years of waiting, I decided to take matters into my own hands and make my own.
The process is surprisingly simple as candy making goes – you don't have to deal with managing temperature or melting sugar – the most intensive portion is kneading the dough, and the recipe is incredibly forgiving.
For mine, I tried to follow the old-school flavors as much as I could. I experimented with flavoring them using both extracts and spices, and I think the spices yielded a more pleasant product, while the extracts allowed for a wider variety of flavor options. My favorite spice choice was anise – I simply ground anise seeds into a fine powder, and worked it into the dough as I added the coloring. This resulted in a very delicate black liquorice flavor that was more subtle and pleasant than what I achieved with extracts.
Be forewarned that these need to dry fully before they reach the right texture. Mine took a full 4 days to dry on the counter, or 4 hours on dehydrate mode in the oven. This will vary by how much extract you add, how large and thick you cut your dough, and how much humidity is in the air, so I'd recommend making these as far in advance as possible if you don't have a dehydrator. If you'd like to write on them, Wilton's Food Writers work well. I preferred how they looked without the words, but perhaps your handwriting is nicer than mine. 🙂
Vegan Homemade Conversation Hearts

Print recipe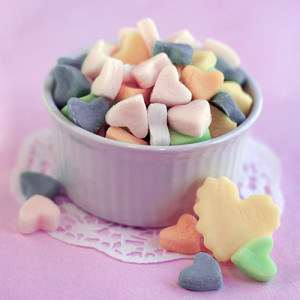 Ingredients
2 teaspoons vegan gelatin (or agar agar, I used Bakol Jel; regular unflavored gelatin for a non-vegan option)
1/2 cups water
2 teaspoons corn syrup (HFCS free)
2lb powdered sugar
extract (of your choice)
spices (finely ground, of your choice)
Directions
Heat corn syrup, gelling agent powder, and water in a small saucepan until powder dissolves.

Pour into a large bowl. Using a hand mixer or stand mixer with paddle attachment, mix in powdered sugar 1 cup at a time.

Once all of the sugar is incorporated, dust a work surface with powdered sugar, then knead the dough until it is smooth and no longer sticky. You may need to add additional powdered sugar.

Separate dough into sections based on desired colors and flavors. Add flavoring and coloring to the dough, and knead until it is evenly distributed. If the dough becomes sticky again, add additional powdered sugar.

Once the flavoring and coloring are fully incorporated, dust the work surface again, then roll the dough out to the desired thickness, approximately 1/4". Cut out dough using heart shaped cookie cutters, then transfer to a dehydrator or wire rack for drying.

Dry times will vary based on thickness, size, flavoring amounts, and humidity. Allow for several hours of drying in a dehydrator, or several days on a wire rack.

Recipe adapted from About.com
Recipe and photos from Mayhem in the Kitchen!
https://mayheminthekitchen.com/vegan-conversation-hearts/


Easy, right? Go surprise your vegan sweetie for Valentine's Day!
---
Linked at:
Retro Re-Pin Party #26