Omigosh you guys, the summer has FLOWN by! I feel like I blinked and suddenly my Facebook feed is nothing but tiny kids carrying giant backpacks!
I haven't been online much because we've taken on a huge project – painting and scraping the exterior of our house! I'm not sure what we were thinking on that one (OK, I do – $40,000 to hire a painter is NOT in the budget) but it has dominated our summer, and even changed the way we've been eating. … for the worse. There's just something about spending 24+ hours covered in lead paint every weekend that doesn't make you super motivated to cook. 🙁
The good news is that tonight, after a very long run of frozen pizzas, takeout, and big salads, we made the world's largest batch of curry, and it was glorious!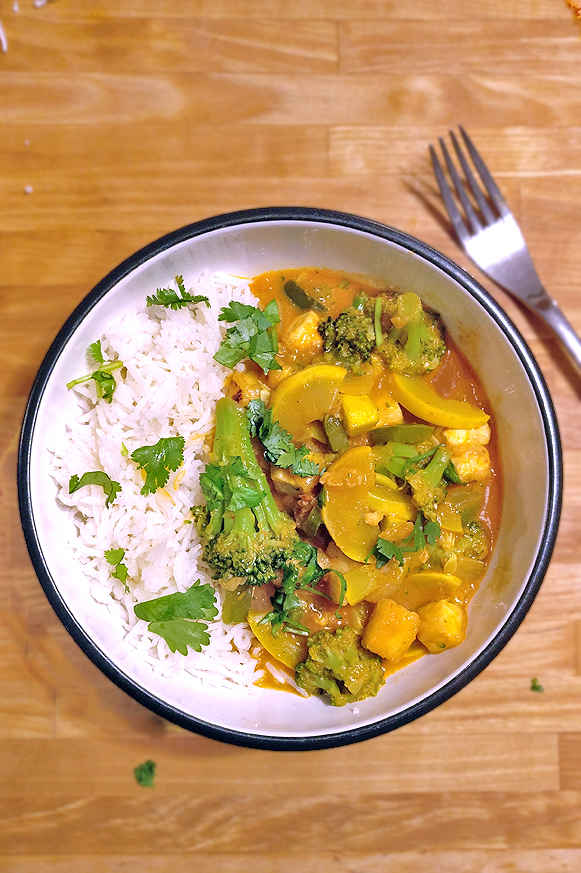 I don't usually crave curry in the summertime, but after weeks of subsisting on 90% garbage, tonight I was craving REAL food of any kind, and this delivered. To take advantage of a rare combination of spare time and ambition, we made this an extra large batch to freeze for next week when we return to the wonderful world of 3 storey scaffolding and lead paint flakes! 🙂
The veggies in this one are tailored to my liking (and to what we had in the fridge already) – yellow summer squash, bell peppers, and broccoli (uh duh) with a jalapeno to give it a little heat – but you could toss just about anything in there.  Cauliflower, zucchini, and Brussels sprouts come to mind, but I think you'd be hard pressed to find a vegetable that doesn't work in this! The coconut based sauce is incredibly creamy and feels very indulgent, but it is balanced by that colorful array of healthy vegetables, and is absolutely a dish you can feel good about eating. I adjusted the spice level a little with garam masala and cayenne, but if you're new to curry or spicy foods, you can cut down or omit those entirely and it will still be delicious!
I've been patting myself on the back for cooking a real meal for the first time in quite awhile, but if I'm being honest, I was easing back into it with this one – all totaled, it was about 45 minutes from the time that I stopped playing No Man's Sky to there being food on the table. (That even includes at least 5 minutes of trying to convince myself that nighttime cell phone food photography is a good idea. I know. It never is. Sorry!) If you pre-cut the veggies, you could easily get cooking time down to under half an hour, making this perfect for a quick but wholesome weeknight meal!
I'll definitely be making this again, and soon – we have an early morning farmer's market run on our weekend agenda, and I'm coming home with curry fixin's! 😍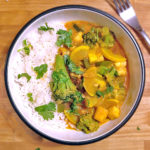 Tofu Coconut Curry
Ingredients
28

oz

tofu

firm or extra firm, cubed

cornstarch

2

Tbsp

olive oil

1

jalapeno

diced

1

medium onion

chopped

2

green bell peppers

chopped

2

yellow squash

sliced

12

oz

broccoli florets

dash salt

to taste

1/4

cup

red curry paste

2 15

oz

cans coconut milk

1/2

tsp

garlic powder

dash garam masala

to taste

dash cayenne

to taste

cilantro

optional
Instructions
Cut tofu into 1/2" cubes, and toss in cornstarch until well coated. In a large nonstick pan, heat 1 Tbsp oil on medium-high and add tofu. Cook tofu on each side until golden and crispy, then remove from the pan and set aside.

Add 1 Tbsp oil to the pan and heat on medium-high, then add vegetables and cook until softened. Sprinkle vegetables with salt, coat with curry paste, then add coconut milk and garlic powder and stir well. Bring to a simmer and cook until the sauce has thickened, about 10 minutes, then add garam masala and cayenne to taste. Add tofu, and cook for an additional 2-3 minutes, just long enough for the tofu to absorb some of the sauce.

Garnish with cilantro and serve over rice or flatbread.