Earlier this summer, we attended a celebration of life party for my Great Uncle. He was arguably one of the coolest old dudes on the planet…well, by nerd standards, anyway. He was a former computer programmer, genealogy enthusiast, and singularity evangelist. In other words, me if I were a 78 year old man. 🙂 As he requested, rather than holding a traditional funeral when he passed, his family threw a big party to celebrate his life and remember the good times. The party had an incredible turnout, with friends, family, and former colleagues all coming together to celebrate a man who was, put simply, fascinating.
Here in the Midwest, no funeral is complete without dessert bars (though we just call them "bars"), so to make sure we were in compliance, I brought along some blondies, and made them a little more festive for the occasion with a whole boatload of rainbow sprinkles!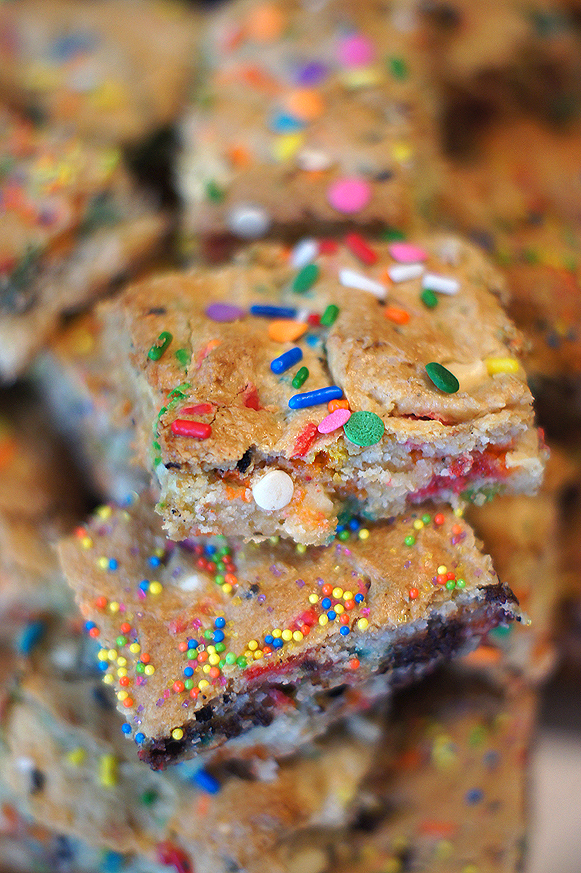 Something felt a little wrong about going full-rainbow for what was, despite its name, totally a funeral, but I figured that if I made treats that looked like they were for a happy occasion, perhaps that would help to put us in the right state of mind.
Admittedly, part of my reason for choosing this recipe was speed – weekends are always busy, and baked goods that do not come from a tube really do not get any easier than this. Plus, this is a great use for the holiday themed cake mixes I always hoard when they're on clearance – no one knows it's a Halloween cake mix when you add another 1/2 cup of sprinkles!!!  I'm almost ashamed by how simple this recipe is, but quick recipes like this one really do come in handy, especially when you're running around like crazy in the summertime (or around Christmastime!) Let's try to keep how stinkin' easy these are our little secret, and I will keep my fingers crossed that no one asks either of us for the recipe. 😉
Typically I will use white chocolate chips in this recipe, but since I was making two batches, I decided to experiment a little and went with regular semisweet chocolate chips in the second batch. I was pleasantly surprised with how differently they turn out with the semisweet chocolate chips, not just in taste, but in texture as well. The white chocolate chips give the bars a gooey texture that leaves them feeling almost underbaked, while the semisweet chocolate chips cause the bars to take on more of a cookie-like feel. Taste-wise, if you want more of the cake batter flavor, go white chips, and if you want more of a chocolate chip cookie flavor, go with the semisweet chips. Either way you can't go wrong, but please comment and let me know which variation you prefer! 😀
Birthday Cake Blondies
Ingredients
1

box white or yellow cake mix - I prefer funfetti

1/4

cup

canola oil

1

egg

large

1/2

tsp

butter vanilla emulsion

optional

1/3

cup

half and half

1/2

cup

sprinkles

1/2

cup

baking chips of your choice

additional sprinkles to decorate
Instructions
Preheat oven to 350. Grease or line an 8x8 baking pan.

In a large bowl, combine cake mix, oil, egg, emulsion, and milk. Fold in the sprinkles and Baking chips. Pour batter into the prepared pan, and top with additional sprinkles if desired.

Bake until edges are just turning brown, approximately 25 minutes. The center will appear underdone, but will set up as it cools. Allow to cool completely before cutting.
Recipe Notes
Adapted from Gracie @ Girl Meets Life