These days, both my parents and my in-laws are cutting their carb intake. While I know it's best for their health, at first this seriously bummed me out because they are some of my best taste testers! Luckily, I've realized that this is actually a great opportunity to continue experimenting with low carb baking.
For Father's Day, I surprised my dad (and my father-in-law) with a Low Carb Cheesecake that everyone in the room loved, regardless of whether they usually eat low carb ! 🙂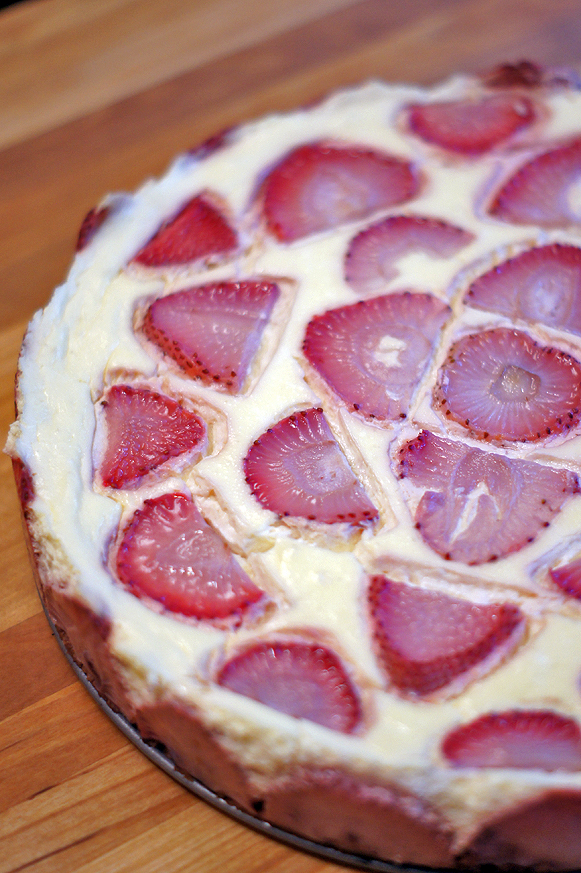 My favorite part of this cheesecake was the crust. I've had plenty of keto and gluten free cheesecakes that were crustless, and others that had a …thing… at the bottom of the cream cheese that I *think* was supposed to be the crust. This is actually the first time I've had a low carb crust that didn't leave me missing a classic graham cracker crust! The nut mixture gives it a nice richness and crunch, but by milling them finely, they also do a great job of mimicking a traditional crust.
That's not to say the filling isn't great – this is an ultra smooth and fluffy cheesecake, with a little bit of tartness, and a whole lot of sweetness.
The strawberries (8 of them in the entire cake – just enough for some sweetness, but not enough to throw the carb totals out of whack) give it a nice color, while providing just a smidgen of natural sugar. You could certainly omit them if you'd like to cut down on the total carbs, but I found they were worth the sacrifice!
You'll want to watch this closely as it bakes – the strawberries around the edge will get pretty ugly if you overbake them, and cheesecake is best when it comes out at just the right time. The secret is to take the cake out when the sides are solid, and the middle is set, but still jiggly. This sounds scary, but as the cake cools, the middle will solidify, and for your bravery, you'll be rewarded with cheesecake that has the perfect creamy texture!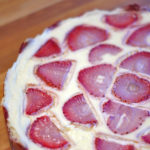 Keto Strawberry Cheesecake (Gluten free)
Ingredients
Crust
3/4

cup

pecans

3/4

cup

almond flour

1/4

cup

salted butter

2

Tbsp

stevia for baking

1:1
Filling
3

sticks

24oz cream cheese (at room temperature)

4

eggs

large

1/2

Tbsp

vanilla extract

2

tsp

lemon juice

1/2

tsp

liquid sucralose

2

Tbsp

stevia for baking

1:1

1/4

cup

sour cream

8

strawberries
Instructions
Crust
Combine pecans and almond flour in a food processor and blend until fine. Melt butter in a saucepan, then add nut mixture and stevia, and cook until slightly toasted. Grease the bottom of a 9" springform pan, spread the nut mixture evenly, then press into a firm layer. Bake at 400 for 5-10 minutes or until slightly golden.
Filling
Combine all ingredients except strawberries in the bowl of a mixer, and mix until well blended and smooth. If desired, slice strawberries and place around edge of the pan. Pour filing over crust and smooth into an even layer. Top with strawberries if desired.

Place cake in a preheated 400 degree oven, then reduce temperature to 250 and bake for 60-90 minutes or until the center has just set. Allow to cool completely before refrigerating. Serve with whipped cream.
Recipe Notes
Adapted from Caveman Keto