Ooooooof has it ever been chilly here in Minneapolis. We've had below zero temperatures every day for a week, not to mention a good six inches of snow! Mayhem has also been terribly upset (exhibit A, exhibit B) and has been taking every opportunity to let us know that he wasn't prepared for this. Usually I don't start using soups and stews as a coping method until at least January, but desperate times call for desperate measures.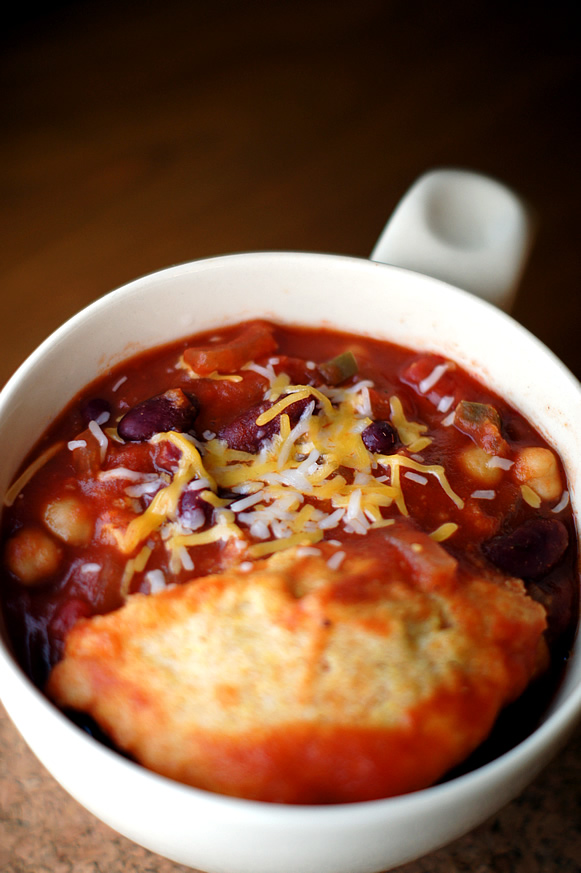 Truth be told, I was too busy making Pfeffernüsse Cookies to be fully engaged in dinner making, so this was a joint effort between the hubby and I (he's better at knife work anyway) but even without an extra set of hands, it would've been quick to the table, maybe half an hour?
This is a great dinner for when you don't want to leave the house, as it relies heavily on canned goods and other pantry staples. If you have a well stocked pantry, chances are good you could make it right now! We had fresh jalapenos in the refrigerator, but you could go canned with those as well. I would consider this to be a relatively mild recipe, but if you're particularly sensitive to spice, definitely keep some tortilla chips, cheese, or sour cream ready, as the dumplings soak up all of the spicy sauce and won't do much to combat it!
The chili itself is vegan, and is wonderful on its own, but for a vegan substitution for the dumplings, give Strawberry Pepper's vegan dumplings recipe a try. If you are gluten free, be sure to use gluten free flour and cornmeal (yes, some companies even sneak gluten into what's supposed to be pure corn) in the dumplings.
Boy did this ever it the spot. There's nothing like a warm bowl of chili on a bitterly cold evening!
Vegetarian Chilli with Cornbread Dumplings

Print recipe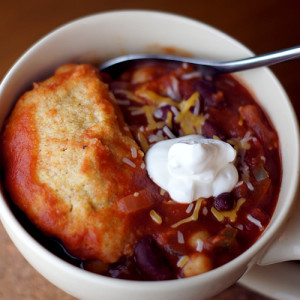 Ingredients
Dumplings
1/3 cups ultragrain flour
1/3 cups yellow cornmeal
1 teaspoon baking powder
1/4 teaspoons salt
1 egg white (beaten)
1/4 cups milk (of your choice)
2 tablespoons oil (of your choice)
Vegan Chilli
3/4 cups water
1 cup onion (chopped)
3 garlic cloves (minced or pressed)
1 jalapeno (seeded and diced)
1 can garbanzo beans (15oz, rinsed and drained)
1 can red kidney beans (15oz, rinsed and drained)
1 can tomato sauce (15oz)
1 can diced tomatoes and chilies (15oz, drained)
2 teaspoons chili powder
1 tablespoon cold water
1 1/2 teaspoons corn starch
Directions
Cornbread Dumplings
Stir together wet ingredients, then add dry ingredients and stir until just combined. Set aside.
Vegan Chilli
In a large skillet, combine water, onion, garlic and jalapenos. Bring to a boil, then reduce heat. Cover and simmer until tender. Stir in beans, tomato sauce, tomatoes, peppers, and chili powder. In a small bowl, mix together cold water and corn starch, then add to bean mixture. Cook until slightly thickened and bubbly.

Drop dumpling batter into 5 mounds on top of bean mixture.

Cover and simmer for 10-12 minutes or until dumplings test done.

Serves 5.

Recipe and photographs from Mayhem in the Kitchen!
https://mayheminthekitchen.com/vegetarian-chilli-with-cornbread-dumplings/
---
Linked at:
Flashback Friday Party