Over the weekend we had the pleasure of throwing a surprise Halloween themed baby shower brunch for some dear friends of ours. We mostly stuck to standard breakfast fare, but because the new mom has some pretty specific dietary restrictions, we made sure the menu featured plenty of things she could enjoy, including these muffins.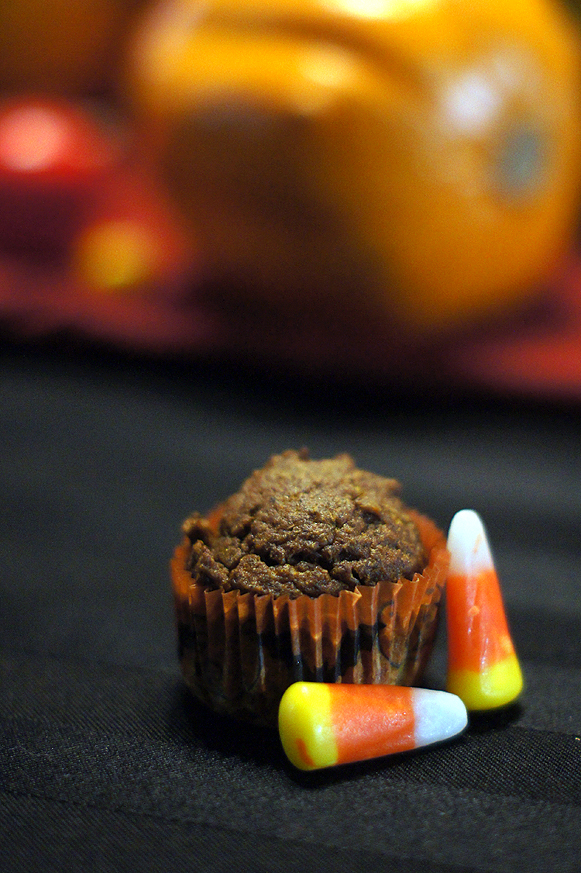 Initially I was pretty skeptical about the huge quantity of eggs in this recipe, and the end product does taste and feel very eggy, but our guest of honor (as well as our keto..keto-er? ketoian? guests) was not bothered by it one bit, and the rest of the group quickly came around to them. To add a little extra sweetness, I added a couple of chocolate chips to some of the muffins after pulling them out of the oven, and while this wouldn't be appropriate for someone strictly following a low carb diet, it made them a little more palatable for the folks without any dietary restrictions who are used to ultra sweet desserts.
I made these as mini muffins since we had a large spread and thought bite-sized would be best, but they'd work just as well in standard size cupcake wrappers or mini loaf pans.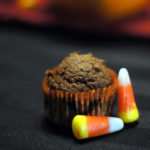 Pumpkin Muffins (Low Carb, Dairy Free, Gluten Free)
Ingredients
10

Eggs

1 15

oz

can pumpkin puree

1/2

cup

coconut oil

1

cup

coconut flour

2

tsp

baking soda

1

Tbsp

vanilla extract

1

Tbsp

pumpkin pie spice

1

Tbsp

ground cinnamon

1

tsp

liquid sucralose

1/4

cup

Stevia for baking
Instructions
Preheat oven to 400 and line 48 mini muffin tin cavities.

Combine all ingredients and mix until well combined. Using a cookie scoop, distribute evenly between mini muffin tins.

Bake 8-10 minutes or until set.

Yields 48 mini muffins.
The shower as a whole was a great success, though I still maintain that men simply don't know what to do at parties like these! Oohing and aahing over baby clothes just does not come naturally to most of the guys I know! 🙂
Since this was a Halloween shower, we mixed the games up a little – instead of "Who's watching the baby?" we played "Who's watching the skeleton?", we played "The Price is Right" but instead called it "The Price is Spooky", and finally, instead of "Labor or Porno?" we played "Labor or Horror Movie?"! We didn't get to it, but one of our friends suggested bobbing for baby doll heads instead of bobbing for apples – gruesome, yet on theme! You can download free printables of my handouts for The Price is Spooky here, and Labor or Horror Movie? here, answers here.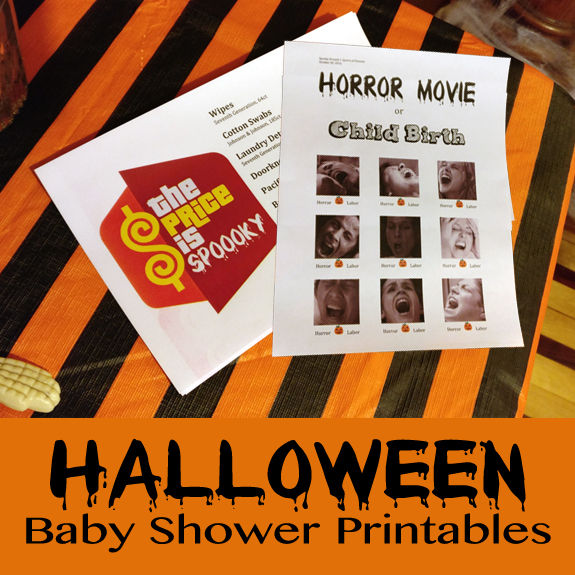 For decor, we stuck with the Halloween basics – lots of black and orange, spiders and webs, skulls, and pumpkins. We dressed our table with a black table cloth and red runner, set out black candelabras with spooky candles, then decorated it with an assortment of pumpkins, gourds, candy corn, and small Halloween novelties like fake eyeballs and rubber mice. We had a large group, so rather than doing a seated dinner we set the dining room table up as a buffet, and served everything in our silver serving dishes for a vaguely Victorian haunted house vibe.
Have you ever thrown a shower with an unusual theme? Would you do it again? I'd love to hear about it in the comments!
xox