For Easter this year I decided that I would bring two cakes, one for my nephew's birthday, and one for Easter. After considering a few bunny and carrot themed designs, I ultimately went with egg inspired designs that reminded me of elaborately decorated Easter eggs.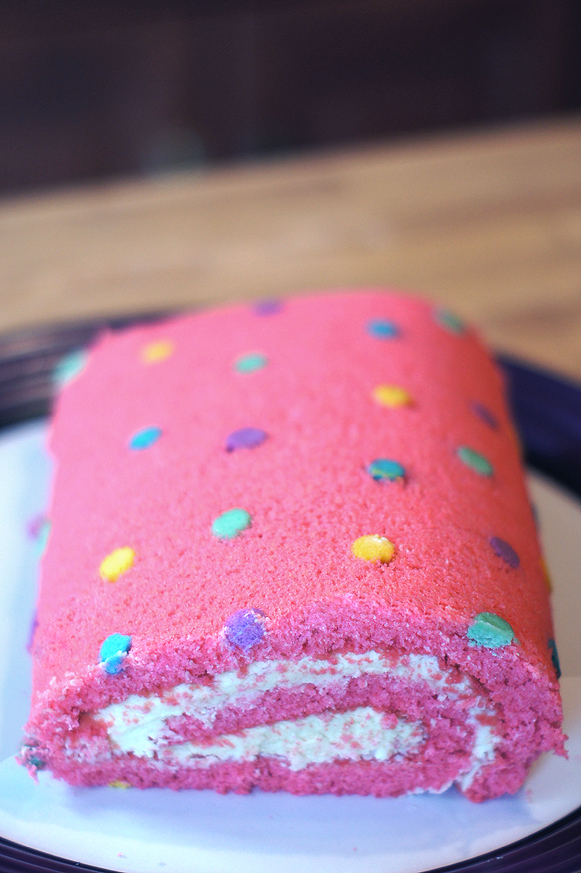 Truth be told, I wasn't super happy with this cake because it's not wrapped as tightly as I would've liked. But, it was suuuper delicious, and had so much potential to be adorable, so I had to share it with you anyway! Hopefully your execution will be slightly more successful. 🙂
I love making cake rolls because all of the decorating is done up front, so when you go to assemble the cake you just throw on one layer of frosting, roll it up, and go. That said, it is also is very high pressure – if you end up cracking the cake like I did this time around, it can be very disappointing. Luckily, the design came through well, so while it's not the perfect cake roll I'd like it to be, it's still super cute!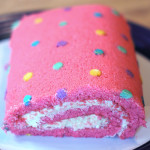 Pink Polka-Dotted Cake Roll with Lemon Filling
Ingredients
Pattern
1

egg white

1/4

cup

granulated sugar

1/3

cup

all purpose flour

1 1/2

tbsp

butter

softened

Coloring

as desired
Cake
4

eggs

room temperature

3/4

cup

sugar

1

cup

all purpose flour

1

tsp

baking powder

1

tsp

vanilla extract

1

tbsp

water

Coloring

as desired
Filling
1

teaspoon

lemon zest

3

tablespoons

salted butter

3

cups

powdered sugar

2

tbsp

lemon juice

1

tbsp

water
Instructions
Pattern
Line a jelly roll pan with parchment paper. If using an elaborate pattern, create a template and place it beneath the parchment.

Beat egg white in a small bowl. Add sugar and flour, then mix well. Beat in butter. Batter will be paste-like. Divide if necessary to add color as desired. Put batter in piping bags, then pipe the desired pattern onto the parchment paper. Put in the freezer for 15 minutes, and prepare the cake batter.
Cake
Preheat oven to 375.

Beat the eggs for 5 minutes. Gradually add granulated sugar and beat for an additional 5 minutes until the mixture is pale. Add vanilla.

In a separate bowl, sift together the flour and baking powder. Fold into the egg mixture taking care to not overmix, then add water and coloring. Stir until combined.

Remove the jelly roll pan from the freezer, and slide out the pattern sheet if necessary. Pour the batter over the piped pattern. Clean the edges of the pan to make the roll smoother. Bake for 10 minutes or until springs back when pressed gently.
Filling
Cream lemon rind and butter. Alternate adding remaining ingredients and beat until smooth.
Assembly
Flip cake out onto a piece of parchment or wax paper. Once flipped, pull the parchment paper off of the decorated side. Flip it over again, this time onto a clean dish towel. Roll the cake, starting from the side opposite from the pattern, and allow to cool.

Unroll the cake and spread it with icing. Roll cake again into a tight spiral. Slice off the ends of the cake with a serrated knife to clean up the edges if necessary.
Recipe Notes
Recipe and photos from Mayhem in the Kitchen!