You know,  every so often, I just have one of those days that is so cruddy that my only real hope is devouring a really good cookie. I had one of those a few weeks ago, and thankfully, my girl Martha Stewart came to my rescue.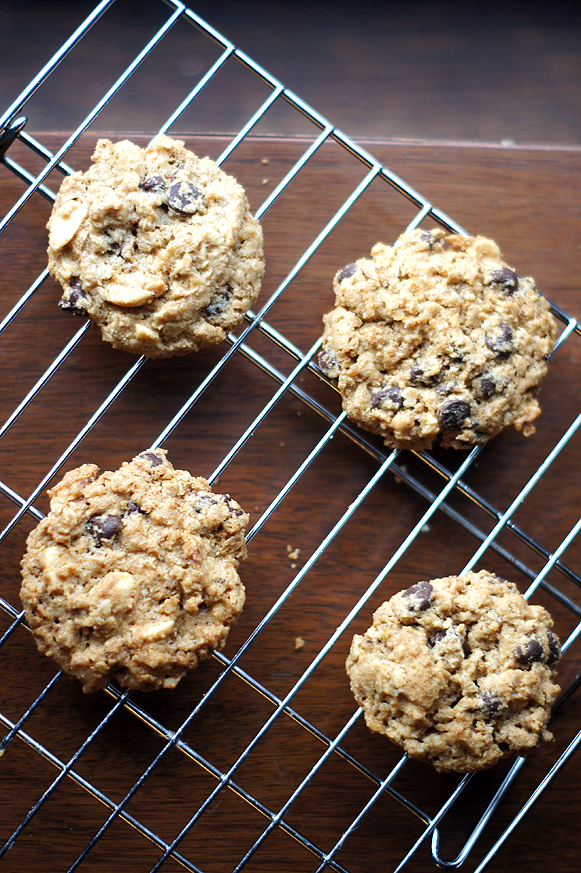 When I had my "cookies. now." day, I first consulted my Martha Stewart cookbook, and was excited to find she had a recipe with just the mix-ins I had on hand – a small amount of chocolate chips, and a small amount of peanuts. I'm not sure I've ever had cookies with peanuts in them (other than crunchy peanut butter, of course) but I was pleasantly surprised by the intense peanutty flavor they provided, as well as the nice textural addition.
I'm usually a soft cookie person, but these had quite a bit of crunch to them, and gosh darn it, I enjoyed it! It seems like most of the time, if you have an oatmeal cookie that isn't moist, that means it's going to be dried out and terrible. These were crunchy in the best possible way – crunchy on the edges, but still nice and moist everywhere else.
I'd highly recommend these for when you only have enough time for chocolate chip cookies, but want a little oomph! 😀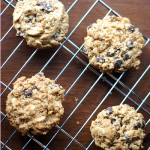 Peanut Butter-Chocolate Chip Oatmeal Cookies
Ingredients
3

cups

old-fashioned oats

1/3

cup

whole wheat flour

1

teaspoon

baking soda

1

teaspoon

baking powder

1/2

teaspoon

kosher salt

1

cup

brown sugar

packed

1

cup

granulated sugar

1

cup

unsalted butter

softened

1/2

cup

natural peanut butter

2

eggs

large

2

teaspoons

vanilla extract

2

cups

lightly salted peanuts

2

cups

chocolate chips
Instructions
Mix together dry ingredients and set aside. Mix together sugars, butter, and peanut butter until fluffy. Mix in eggs and vanilla extract. Add oat mixture and stir together until just combined, then mix in peanuts and chocolate chips.

Line a baking sheet with parchment paper or a silpat. Drop dough onto the pan using a 1.5Tbsp cookie scoop.

Bake at 350 until just set, 13-15 minutes.
Recipe Notes
Adapted from Martha Stewart's Baking Handbook