Awhile back I needed to make a dessert for an office birthday. Most of the time I have free-rein on those, but this time I had a few constraints – the birthday boy isn't a big fan of cake, I was short on time, and I wanted something absolutely decadent. After spin through Pinterest I quickly had my inspiration: peanut butter pie. 😍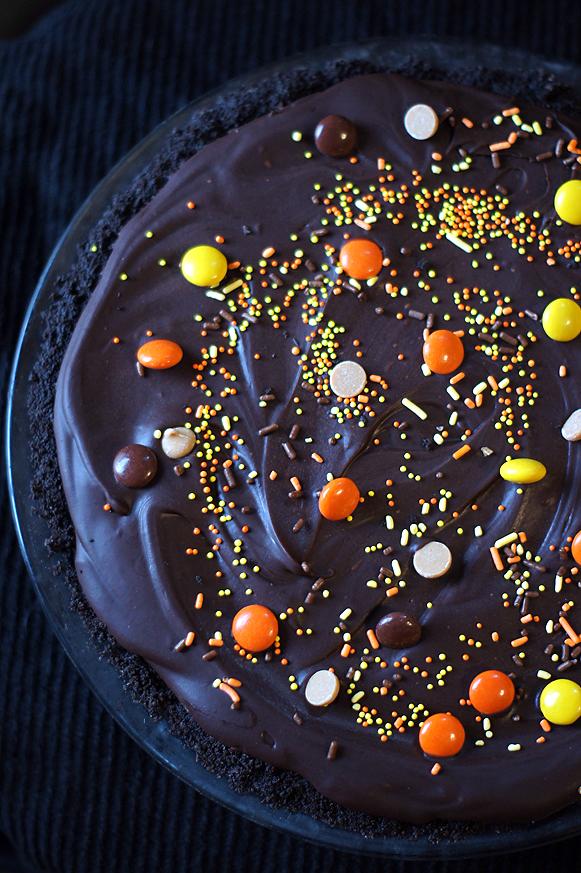 I loved that this was such a quick recipe. I'm usually not a fan of no-bake desserts, so this one really surprised me – it was attractive, held its shape well, tasted better than a Reese's Peanut Butter Cup AND doesn't have any Cool Whip in it. You can't get much better than that!
I will warn you though, it is super creamy and RICH, so pace yourself, and start with a small slice!
I should also add that if you are serving this on a warm day, it may lose it's shape a little, so it's best to give it a little extra time in the refrigerator. Beyond that, it's pretty much fool-proof! Oh, also, I've successfully adapted this to be vegan through vegan margarine and almond milk, and no one was the wiser.
I loved decorating this in what I'm pretty sure are official peanut butter colors (yellow, orange, brown) and Reese's Pieces, but but you could easily spruce it up for any holiday using seasonal M&Ms and sprinkles instead.  Anyone have any other ideas to take this recipe over the top? Personally, I'd love to see additional flavors introduced – coffee? Bananas? Caramel? Cream Cheese? Let me know what you come up with!💖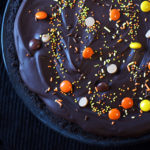 Oreo Peanut Butter Cup Pie
Ingredients
Crust
14

oz

Oreo cookies

1/2

cup

salted butter or margarine

melted
Filling
1/2

cup

salted butter or margarine

softened

1 1/2

cups

creamy peanut butter

1

cup

powdered sugar

1/2

tsp

vanilla extract
Topping
1

cup

chocolate chips

2

tablespoons

creamy peanut butter

1/2

cup

heavy whipping cream or non-dairy milk

1/4

cup

Reese's Pieces or M&Ms
Instructions
Crust
Finely crush Oreos (no need to remove the filling) in a food processor, then add the melted butter and pulse until well combined. Press into the bottom of a 9" pie plate, then place in the freezer for 10-15 minutes to set.
Filling
Combine the softened butter, peanut butter, powdered sugar, and vanilla extract in a mixing bowl, and beat until smooth and creamy. Spoon the mixture onto the prepared crust, and smooth into an even flat layer, then return the pie to the freezer.
Topping
Place the chocolate chips and peanut butter in a heat-proof bowl. Bring the whipping cream just to a boil on the stove or in the microwave. Pour the hot whipping cream over the chocolate chips and peanut butter, and allow it to sit for 2-3 minutes, then whisk until smooth.

Pour the chocolate over the peanut butter layer, then embellish with candies and sprinkles. Place in the refrigerator to set before serving, at least 1 hour.
Recipe Notes
Adapted from Kevin & Amanda