We're headed out to a Halloween Party tonight and were told to bring whatever we'd like. Of course, I immediately gravitated toward cupcakes because they're the perfect party treat in so many ways – single serving, easily themed, universally loved, friggin adorable……
I scoured the web for ideas last week, and this idea for graveyard cupcakes from Better Homes and Gardens came out on top. I thought they were SO cute, and I loved that using candy and cookies for the majority of the decorations would make them quick to assemble.
Unfortunately, I severely underestimated how difficult it would be to find vegetarian mellowcreme pumpkins the week of Halloween! Brach's version contains gelatin, so they're out, but most of the time grocery stores will have candy corn and mellowcreme pumpkins in their bulk bins that are vegetarian (though not vegan – they still have honey and eggs.) I visited FIVE different grocery stores in search of the pumpkins, (that's not including department and hardware stores where I checked and re-checked the labels of bagged candy) and in each case they were only stocking Brach's as though they have a monopoly on the waxy Halloween candy market! Anyway, yesterday I was ready to give up, and stopped at the grocery store near my work (the same chain as the store near my house) with the intention of buying the regular ones and just not eating any myself. I walked in and noticed that the Halloween section was very picked over and began to worry that they might not even have the bagged version, but when I turned the corner I was greeted with not just one but TWO bins of mellowcreme pumpkins!
I was so excited I had to text my husband a photo of it. He didn't reply, but I know he was just as thrilled as I was.  😉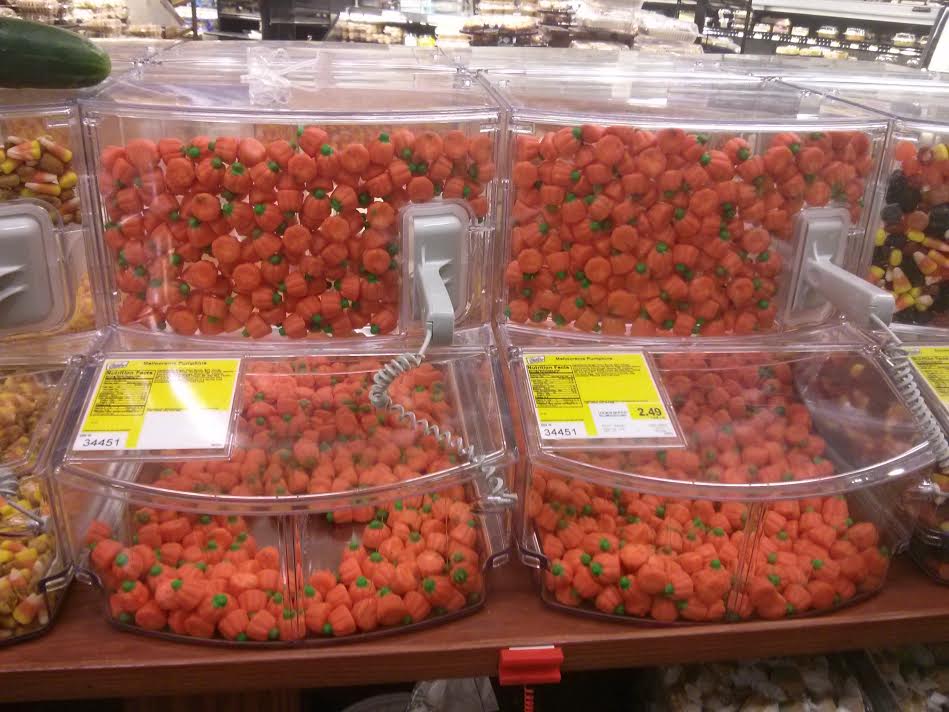 Anyway, once I had the requisite ingredients, it was time to get started. For the cake, I followed a method similar to the vegan candy corn cupcakes except I swirled the two colors of food coloring around to create a marbled look. Easy peasy.
To decorate, I created spooky trees by piping chocolate almond bark onto wax paper using a small round Wilton #5 tip, and created tombstones by removing the filling from Oreo cookies and cutting the edges off of two sides with a serrated knife. Then to put it all together, I swirled almond buttercream icing onto the top of the cupcakes using an extra large Ateco #808 tip, stuck in the decorations along with some bone sprinkles (from Target) and the elusive mellowcreme pumpkins, and finished it off by sprinkling chocolate jimmies and -this is very important – crushed cookies over the top. Whatever you do, don't skip the crushed oreos! They tie it all together. Without them there's no cohesion amongst the decorations and it will honestly look like you just sprinkled mouse poo all over your cupcakes. Trust me on this one!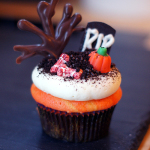 Halloween Graveyard Cupcakes
Ingredients
Cupcakes
Batter of your choice

enough to yield 12 cupcakes

Yellow gel food coloring

Pink or red gel food coloring
Icing
1 1/2

c

salted butter

1

dash salt

1 1/2

tbsp

almond emulsion

2

lb

powdered sugar

2

tbsp

milk

of your choice
Embellishments
6

chocolate sandwich cookies with white filling

2

squares almond bark

12

candy pumpkins

24

bone sprinkles

1/2

c

brown jimmies
Instructions
Cupcakes
Prepare batter according to recipe or package ingredients. Add pink and yellow food coloring until the batter reaches a bright orange color, then swirl in additional yellow coloring. Bake according to recipe directions. Cool completely.
Icing
Using a stand mixer with paddle attachment, mix together butter, salt, and extract until well blended. Gradually add powdered sugar one cup at a time and whip vigorously. Gradually add milk until desired texture is reached.
Embellishments
Tombstones: remove cream filling from cookies. Trim off the edges of two sides of the cookie so that it resembles the shape of a grave marker. Reserve cookie trimmings for later. Pipe text onto cookies using a small round tip. (Wilton #3)

Trees: melt almond bark and place in a piping bag fitted with a small round tip (Wilton #5) Pipe tree shapes onto wax paper and allow to cool completely.
Assembly
Pipe icing onto completely cooled cupcakes using a large round tip (Ateco #808.) Push tombstone cookies and trees down through the icing and into the cupcake until firmly in place. Push pumpkin candies and bone sprinkles into icing. Liberally sprinkle with chocolate jimmies, then sprinkle with crushed cookie trimmings.
Have fun and be safe tonight!