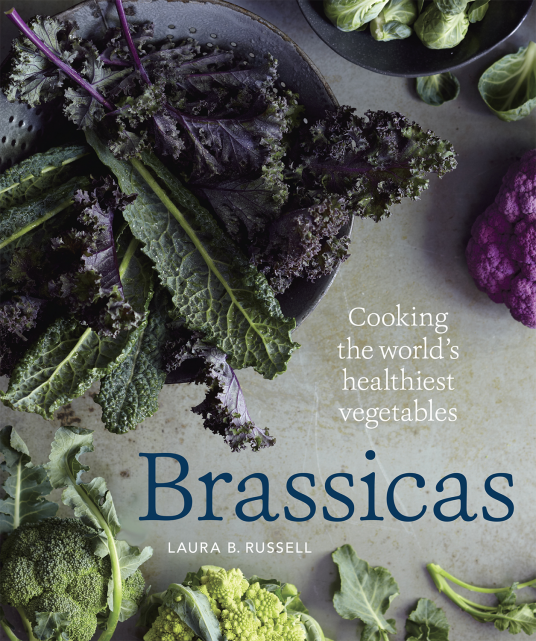 Brassicas - - Cooking the World's Healthiest Vegetables
Ten Speed Press
Apr 8 2014
176

A cookbook showcasing 80 recipes for the most popular of the world's healthiest vegetables--kale, cauliflower, broccoli, brussels sprouts, cabbage, leafy greens, and more--tailored to accommodate special diets such as gluten-free, dairy-free, vegetarian, and vegan.
I let out an audible gasp when I saw the title of this book. Someone who loves cruciferous vegetables as much as I do? Impossible, I thought. No one could possibly share my appreciation for all things green and kind of smelly. Fortunately, I was wrong – in Brassicas, Laura B. Russell has created the first volume of its kind, covering the full range of brassicas, from kale to cauliflower to radishes – and everything in-between.
The book first covers the basics of each cooking and preparation method, and is then divided into chapters by each type of vegetable. In this incredibly comprehensive guide to my most beloved vegetables, she also does away with the biggest mistakes associated with them almost immediately, "As we start cooking together, I will dispel the notion that brassicas must endure death-by-boiling–possibly the worst way to prepare them– or burial under a thick blanket of cheese.", winning her even more points in my book.
If you know me, you know I dove headfirst into Chapter 4: Broccoli. A woman after my own heart, she opens up with the very simple Steam-Sauteed Broccoli, a quick broccoli preparation method for everyday. The highlight of the section for me was Lemony Broccoli Chop, a salad that would be a wonderful side but that is delicious enough to be a main dish.
Once through broccoli, I headed back for Chapter 2: Cauliflower and Chapter 3: Brussels Sprouts and Cabbage. Neither disappointed, and I can't wait to try her Indian Potato and Cauliflower Curry.
While not a strictly vegetarian cookbook, it is certainly vegetable centric, and most recipes can be vegetarianized.
It's about time a cookbook gave these oft-maligned vegetables their due credit. Highly recommended.