Now that the holidays are over, just about everyone I know is making a pledge to eat better, lose weight, or simply be smarter about their food choices. I'm not really one for resolutions, as I think that improvement can (and should) come at any time of year. However, when even Sally's Baking Addiction is posting Kale Smoothies, and me, the supposed slow food vegetarian, is over here posting recipes for Homemade Twix and Cookie Butter, something is probably wrong!
With that in mind, I decided I was going to share a recipe that would be healthy and whole foods driven, but that recent healthy-eating converts might find appealing. At first I thought that something with one of those buzz-worthy foods like kale or chia seeds or quinoa would be a sure-fire winner, but at the last minute decided broccoli, the familiar favorite, needed to take center stage.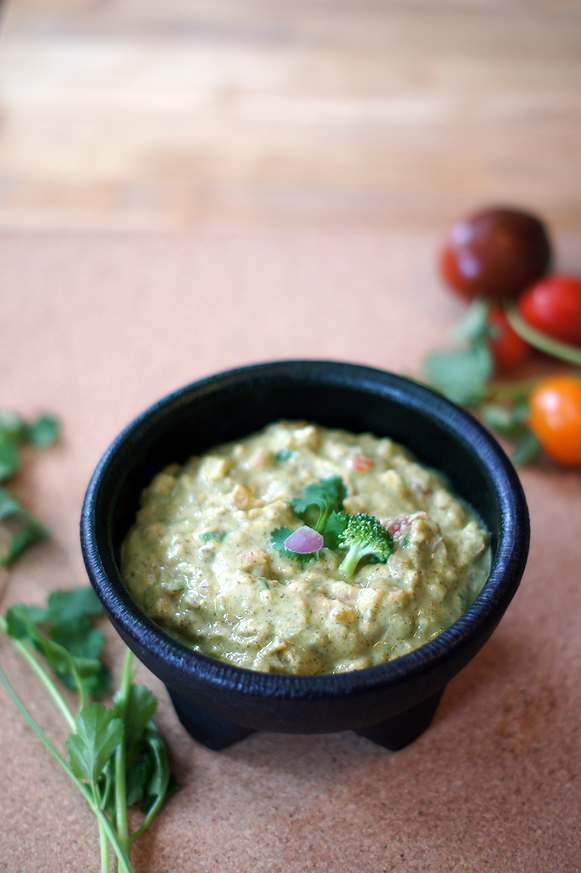 Your eyes aren't deceiving you. That's broccoli, not avocado.
You know me and broccoli – I'm addicted, and buy the 3lb bag of florets every time we go to Costco. I could honestly eat it at every meal, and there are some weeks that I do! The funny thing about broccamole (broccomole?) though is that it doesn't really satisfy my broccoli-tooth. I think that's because there's very little broccoli flavor to it – once you boil the snot out of the broccoli and add garlic, onions, jalapenos, lime juice, cilantro, cumin, and chili powder, somehow the broccoli just melts away, and all you're left with is something deliciously guacamole-like.
Except not guacamole-like in one major way – calories!
I know what you're thinking – this isn't the 90s, haven't we all forgiven the mighty avocado in the name of good fat? YES, but sometimes you just don't have room in the caloric budget for guacamole AND chips. That's where broccamole comes in – at under 300 calories for the entire bowl, you can get most of the flavor of a good guacamole, but with enough room left to sneak a tortilla chip or two. Sure, you'd be better off with avocado and not the chips, but some days that doesn't fit the bill, am I right? 🙂
Truth be told though, this IS based on a 90s concept, and it was developed for people who were cutting fat out of their diets. We're all past that now (right?) but just because this dip is low in fat doesn't mean that it's not a great option! With all of the delicious spices and the addition of yogurt (or sour cream, cream cheese, tofu, cashew cream) it has all the spiciness and the creaminess of real guacamole. And heck, at least where I live, avocados are expensive! A bowl of guac is at least 5 bucks worth of avocados on a good day. Meanwhile, I could make this recipe 3 or 4 times with that Costco bag of broccoli I keep talking about. So, it's great for the penny pinchers, too! 😉
It's also great for the lazy – this recipe is super easy, you more or less just boil the broccoli and puree it up in the food processor. I chopped my veggies and pulsed them in because I like the dip to be chunkier, but if you like a smooth texture you could totally just dump it all at once into the food processor.
Anyway, I loved this dip, and I hope you do too. Try it anytime you'd eat guacamole – chips, veggies, tacos… maybe even dip more broccoli into it? How about those awesome zucchini chips everyone was making last year?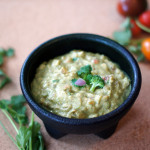 Broccamole (Mexican Broccoli Dip)
Ingredients
4

cups

broccoli florets

6

ounces

yogurt

sour cream, cream cheese, or silken tofu

juice of 1/2 lime

1

clove

garlic

1

tsp

cumin

1

tsp

chili powder

dash salt

1

tbsp

cilantro

chopped

1/2

c

tomatoes

diced

1

small red onion

diced

1/2

jalapeno

diced
Instructions
Boil broccoli florets until they're very soft and mash easily. Drain well, then blend in a food processor until smooth. Add yogurt, lime juice, garlic, cumin, chili powder, and salt. Blend well. Add cilantro, tomatoes, onion, and jalapeno, and pulse until mixed. Chill before serving.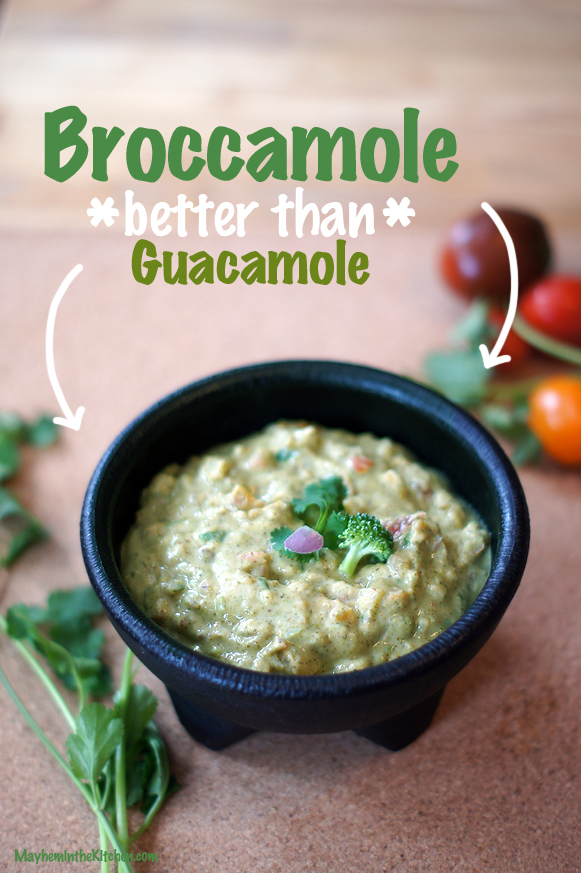 ---
Linked at:
#SoMe2 Link Party No. 67- Pinterest